How to Use Email Marketing to Skyrocket Your Sales is simple if you have the right plugins for WordPress. With every dollar you spend on email marketing, it can give you over a $30.00 return on investment.
If you're not already using WPForms I highly recommend using this plugin out of any form plugin I have found. Mainly because it can integrate with so many other addons and it is a simple drag and drop plugin.
Although, If you had the right methods to quickly gather lead information. Using smart conditional logic for all your polls, payment forms, surveys, quotes, and more. Thus, making it much easier to create more target markets for your business. Would you not be interested in giving this a try? By using these two together your possibilities are endless.
How can email marketing help my business?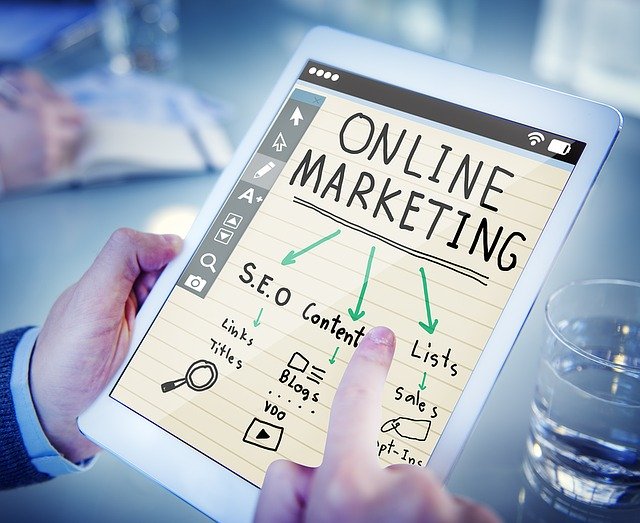 I know a lot of people are working from home now. Trying to set up distribution and website stores to continue selling their products online. So what better way to help than to provide you with a solution. I was able to find this option through some resources and plugins, I already am using.
Although trying to find new customers and know what they need can be challenging today. Building a customer base is still very important. It's not like you can wait for your customers to enter the store and browse when switching to online selling. This is where you can really reap the rewards of email marketing. So by investing a little can take you a long way. Remember you can earn $32.00 per $1.00 invested in these programs if you use them right.
Setting it all up- Email Marketing tools
How to use email marketing to skyrocket your sales!
*Disclosure: I only recommend products I would use myself and all opinions expressed here are our own. This post may contain affiliate links that at no additional cost to you, I may earn a small commission. Read full privacy policy here."

I have been a huge fan already of WPForms as you can see from my other posts. I absolutely love the flexibility it has to integrate with other add-ons to my website. Both ActiveCampaign and WPForms Elite exist to help you skyrocket sales through email marketing. Using these two services in combination, you will get the marketing results in your looking for.
By using both these platforms for your website, Your marketing plan can turn your website visitors into subscribers. Also, using WPForms to create simple forms and store it automatically into an ActiveCampaign list of your choosing. You can then automatically follow up with new contacts so you don't miss a potential sale.
At the end of my post, I will include step by step instructions on how to set up your ActiveCampaign and WPForms integration But first, we need to understand why this is important for your business to keep going through these challenging times with reaching more of your customers through email.
How email marketing works
Email marketing creates an opportunity to establish long-lasting relationships with your customers and leads. It can help you find new customers or new needs your customers may have.
It offers a chance to suggest new services or products to sell online without them visiting your store in person. Evaluate their buying patterns and needs to help them with future choices in your business and repeat sales. And furthermore, it is the best return on your investment compared to other marketing techniques. Not to mention very cost-effective.
You can even add a live chat on your website to assist your customers with their needs and answer any questions they may have. This will also improve your SEO, ranking you higher in the search results. Your bounce rate will be significantly low by offering such personable contact with your customers.
Fact Check- How email marketing is effective
According to the 2018 Inbox Report by Fluent, 80% of the USA check their email at least once per day, nearly a quarter of them checking their personal email several times a day.
Also according to CIRA, they did a report on Canada. 73% of Canadians spend at least 3-4 hours online per day.
Most Canadians spend at least 3-4 hours online every day – shopping, using social media, emailing, banking, and catching up on news and current events. one-in-eight Canadians spend more than eight hours a day online. So as you can see that under normal circumstances you have a very high chance of reaching your sales goals through email marketing.
Another great option is hiring a digital marketing manager. I would recommend Jooble Canada, they have over 90 million users monthly and the #2 job websites in the world. Hiring a professional or team that uses measurable analytics to identify ways to improve your website or campaign performance can skyrocket your sales. Even if you're just hiring them for your email campaign. Or simply to improve your brand recognition and trust with consumers online.
Remember NOT to SPAM
You do not want to spam your customers with overwhelming amounts of offers. Try to make a personable relationship with each one. Value their support and offer them choices on how many emails they would like to receive. Building a good trust score with google is also important to keep a good score with them making your site more trustworthy.
Plugins You Must Have
Install these two plugins if you do not have them already. The first one is called ActiveCampaign, the second one I am hoping you're using is the WPforms but you will need to upgrade to the Elite Package to use these features together. But again it is well worth the investment!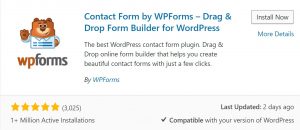 Integrations
You can refer to my other tutorial on installing WPForms to get started. You can then start to install the ActiveCampaign plugin. Once installed and you have set up you're account go to your settings/ActiveCampaign.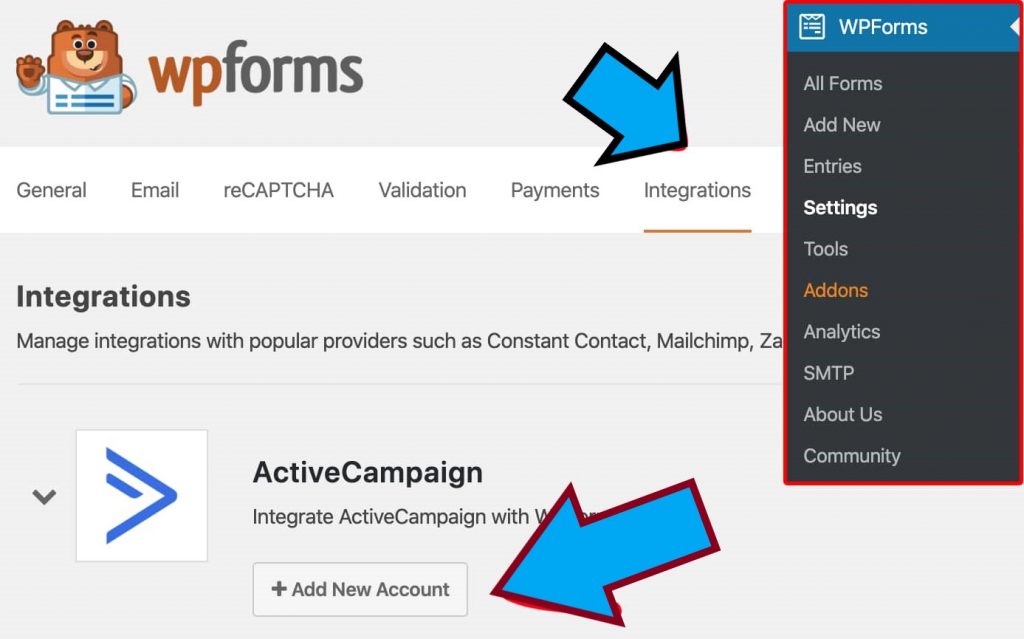 Once the installation is complete, you'll need to configure the WordPress plugin settings by supplying your ActiveCampaign API URL and Key, as well as selecting which forms you want to make available for use on your WordPress site.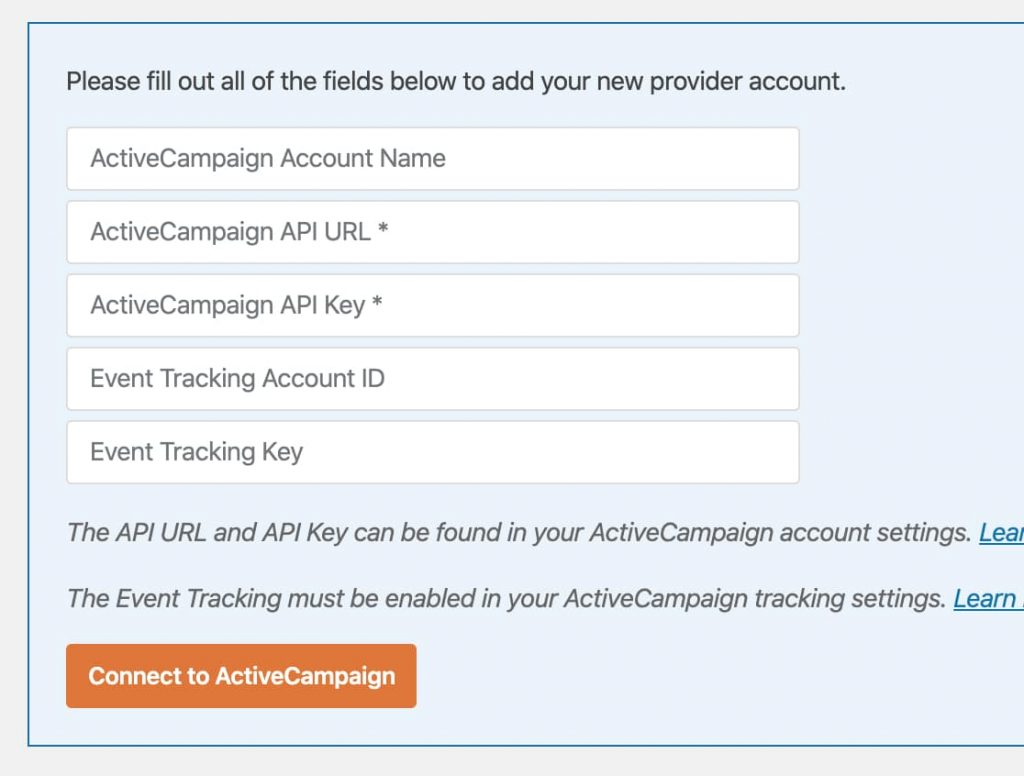 In the steps below, we'll show you where you can access your ActiveCampaign API information to add to WordPress via WPForms and show you how to make your forms available for use on your site.
Introduction to using the ActiveCampaign
Sign up for a free account for 14 days to see if you like the program. After signing up you will need to enter all your information before moving forward.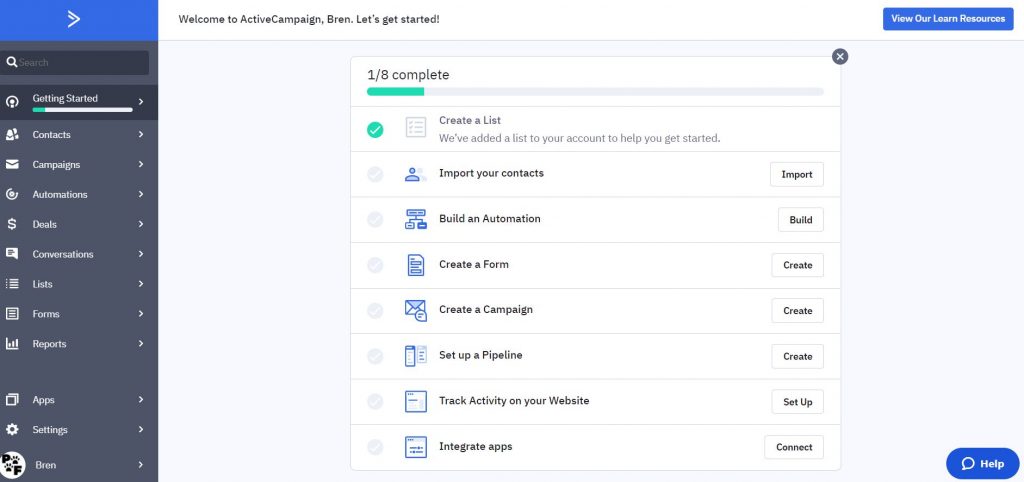 Getting Started With ActiveCampaign
After you have entered all your website information you can now move on to integration. Remember you will have to enter a physical address required by US law Called the CAN-SPAM Act. This act sets the rules for sending any or all commercial emails. In Canada, you can read Canada's Anti-Spam Legislation (CASL) with similar restrictions.
1. From your ActiveCampaign account, click "Settings" located in the lower left of the application. You can include your address under Addresses in this section as well. But remember this address will be sent to alls you send through ActiveCampaign. It is great if you do have a physical location where you conduct your business.
2. Click Developer – in the left-hand sidebar.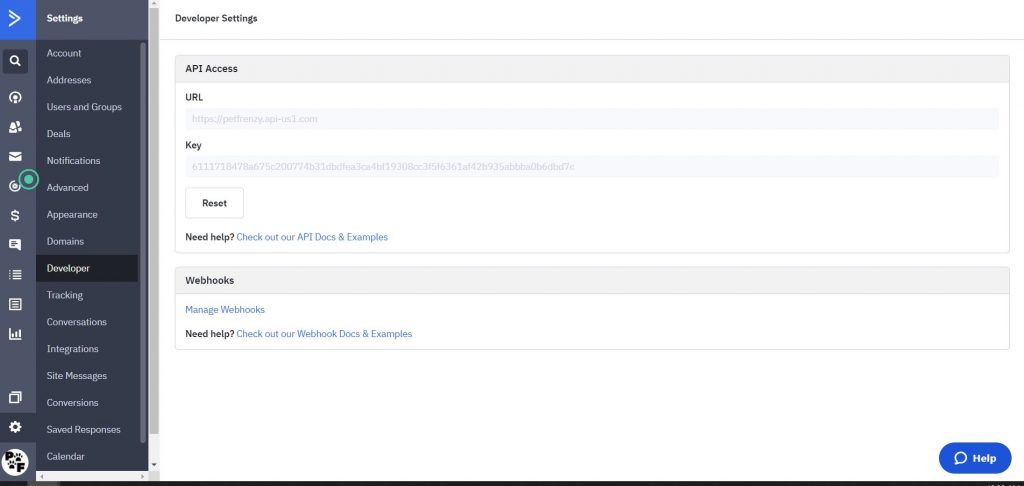 3. Under the API Access section heading, you'll see your API URL and key. Copy your API URL by clicking it and pressing Control + C on your keyboard. Paste the URL into your WordPress site then do the same for your API key.
API stands for Application Processing Interface. This allows WPForms and ActiveCampaign to integrate and pass the information back and forth to one another.
4. Click the Connect button in WordPress.
5. Select which forms should cache locally on your site by clicking the checkbox next to them. Selecting forms here means you'll be able to insert them into your WordPress posts and pages. This step is required if you want to use WPforms on your WordPress site with ActiveCampaign.
6. When finished, click the Update Settings button.
7. Enable site tracking on your website, this will allow you to track visits. If you enable the conversations to feature you can use a chat widget on your website. There are two different tracking settings:
Track by default: This setting will track page visits, IP addresses without consent. The page visits and IP addresses are considered to be personal data. So you can update your privacy policies on your website.
Don't track by default, this requires contacts to confirm by consent in order to use this tracking feature.
f you'd like to disable site tracking, click the Enable site tracking toggle to its "Off" position.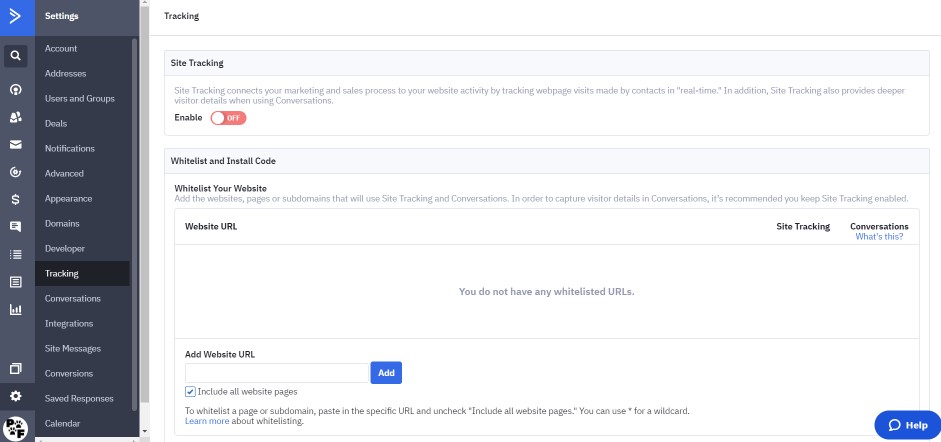 This option will appear on the ActiveCampaign settings page in WordPress if you have at least one form in your ActiveCampaign account. Your dashboard will look something like this when reviewing the site tracking.
Now that your finished click the Update Settings. To begin adding forms to your website, you can view ActiveCampaign's tutorial on Adding Forms.
Learn More
ActiveCampaign has so many videos and supports on its website. Learn more by visiting the website. You can start building your contact list and creating advertising campaigns that you can integrate with other plugins and add-ons.
If you enjoyed our post on How to Use Email Marketing to Skyrocket Your Sales. Please visit our newest post on Accepting Payments Through PayPal to reach an additional 286 million PayPal potential customers.