Book Your Virtual Veterinarian Appointment now through Vetster. This is a great option for most people during the Covid 19 lockdowns. In November, the Toronto-based company announced its official launch as an innovative pet wellness platform virtually. Connecting pet owners to a marketplace of licensed veterinary professionals for video, chat, and voice-enabled appointments.
*Disclosure: I only recommend products I would use myself and all opinions expressed here are our own. This post may contain affiliate links that at no additional cost to you, I may earn a small commission. Read full privacy policy here."
For those unable to visit their local clinics for timing reasons or due to the ongoing COVID-19 pandemic. Vetster provides NEW cutting-edge telehealth convenience. Assisting with overall wellness for your cat, dog, or small animal. Check out what others have to say about Vetster.

So How Do You Get Started?
You will need to set up an online account with Vetster and once you have done that you can start booking your virtual veterinarian appointment. Only your getting one on one time with a registered Local Veterinarian anywhere across Canada and the USA.
"Vetster has over 1,800 licensed veterinary professionals throughout the United States and Canada that pet owners can select when booking an appointment." – Source Vetster website.
Telemedicine does not replace in-clinic veterinary care, but rather supports pet parents in taking a proactive approach to pet health. Clients are much more likely to "see" a veterinarian virtually at the onset of their concern due to the accessible nature of telemedicine. This can be very important when finding serious health issues sooner than if you have to wait for an appointment. Or getting immediate help if your pup gets into something like chocolate or other things not so good for them.
How Do You Get Pet Prescriptions?
Vetster uses a company located in Concord Ontario. It is a licensed pharmacy in the province of Ontario (Ontario College of Pharmacists Certificate of Accreditation #304640). . With Fast Delivery for non-urgent medications. Once your appointment is complete, fulfill your prescription, if applicable, using one of our pharmacy partners, or ask the doctor to send your prescription to the pharmacy of your choice.
How Much Does It Cost?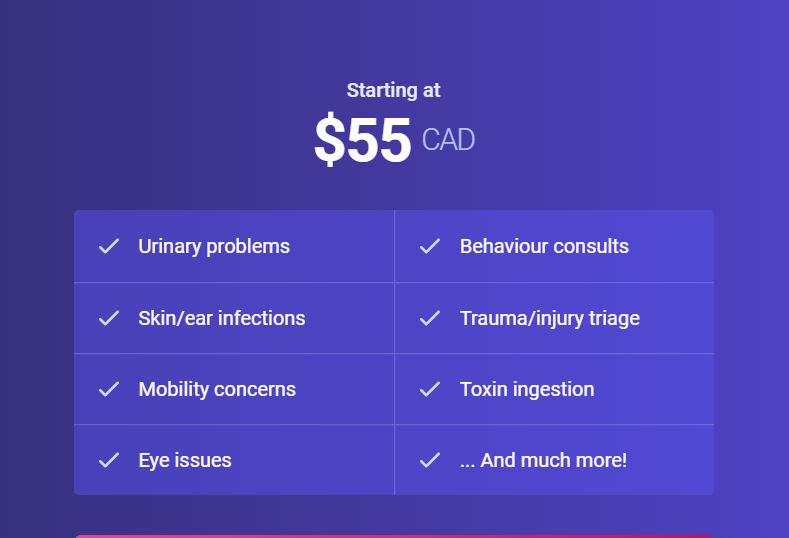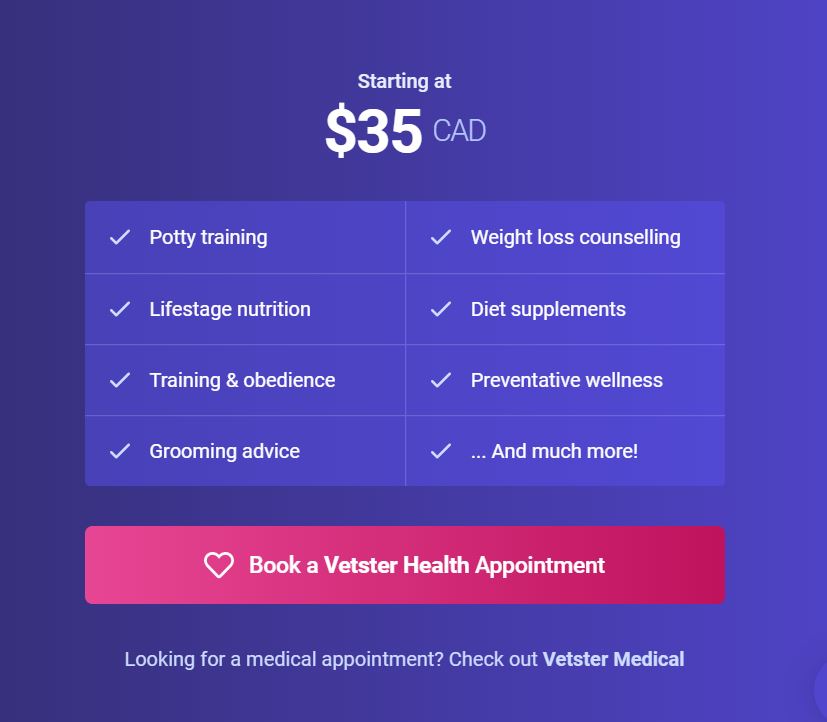 Benefits of having an online Veterinarian
No need to go anywhere, you can speak to a veterinarian anytime when you need to without leaving your home.
Fast reliable help with your wellness appointments and other concerns you may have on your pet's behavior.
It will work around your schedule, not the clinic hours.
You can keep all your records in one place.
Where ever you may be Vetster has over 1,800 licensed veterinary professionals throughout the United States and Canada to help you. Even when you are in a different province or state.
Don't Forget To Book Your Virtual Veterinarian Appointment now
Things I can recommend
Navigating through the pandemic has been hard. So I highly recommend checking our new store. Use Promo Code for 15% Off your purchase. Use Code: IMPACT15