Reliable Vet Formulated Homemade Dog Food Recipes delivered right to your door. I found this amazing program to help anyone create their own nutritionally balanced homemade dog food with the assistance of a licensed veterinarian. Even if your dog has some underlying issues the professional team at Just For Dogs has the perfect formulated solution.
With 13 Licensed nutritionists and veterinarians, including eight board-certified specialists. Therefore, they can help you provide the best food and nutrition to your furry loved ones. Plus You can Get 20% off your first order.
Have a Diet Custom Formulated
A one-time $250 formulation fee must be received to begin the custom diet process. This fee is for the nutrition team to obtain medical records and for their formulators (all veterinarians) to review your pet's medical records and files, consult with you and your primary care veterinarian, and ultimately create the diet.
Please be advised that once their formulators have discussed the case and diet with you, you will not be able to receive a refund. Or you can shop some of their more affordable options for already formulated diets. In addition to that, if you do not want to order fresh or frozen meals, you can use their DIY kits.
*Disclosure: I only recommend products I would use myself and all opinions expressed here are our own. This post may contain affiliate links that at no additional cost to you, I may earn a small commission. Read full privacy policy here."
Transitioning Your Dog To Whole Foods
If your dog has been on commercial foods it is important to transition your dog's new menu slowly. Here are some recommendations they suggest when introducing your furry loved one's new Just for Dogs Recipes.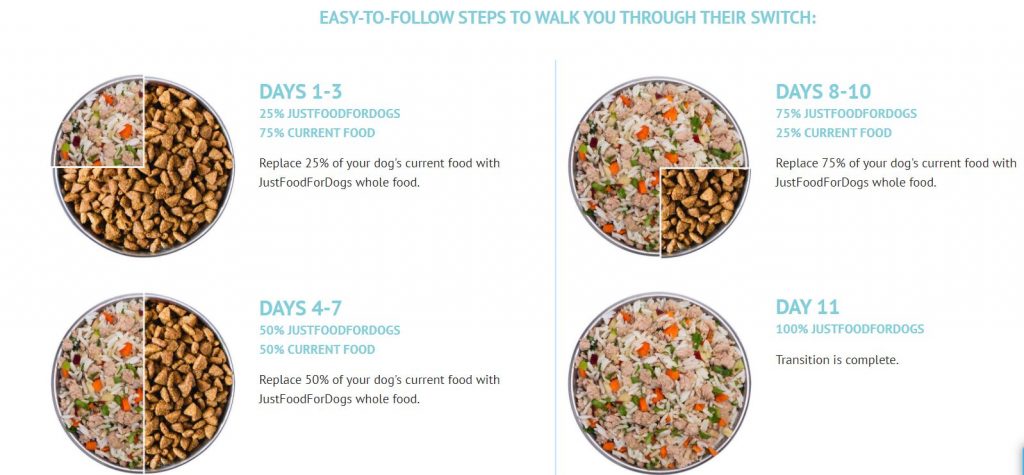 Vet Formulated Recipes for Underlying Conditions
You can have your veterinarian prescribe you a special diet where they will design the perfect menu to help keep them healthy and safe. Without having to worry about if they are getting too many proteins for example with dogs that have renal failure. Or maybe they are in need of metabolic support, Hepatic support, or even Joint and skin. They also can provide you with recipes for Critical Care Support.
Renal Support -Homemade Dog Food
They have some great recipes for Renal Support. Anywhere from low proteins to moderate proteins. Also, You can even order them already made for you. They are available in two sizes.
Restricted High-Quality, Highly Digestible Protein
Restricted Phosphorus
Controlled Levels of Electrolytes
46 Calories Per Ounce
Low Protein Diet for Dogs
This Diet Requires a Prescription From Your Veterinarian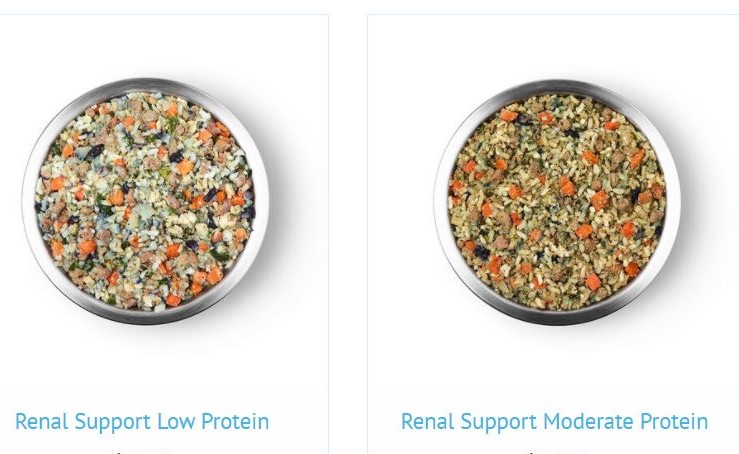 Low In Fat Recipes for Hepatic or Metabolic Support
Hepatic includes the following:
Controlled High-Quality, Highly Digestible Protein
Controlled Phosphorus
Restricted Copper
Low Fat
31 Calories Per Ounce
Hepatic Diet for Dogs
This Diet Requires a Prescription From Your Veterinarian
Metabolic Includes the following:
High-Quality Digestible Protein
Restricted Simple Carbohydrates
Low Fat Diet for Dogs
Increased Fiber
34 Calories Per Ounce
This Diet Requires a Prescription From Your Veterinarian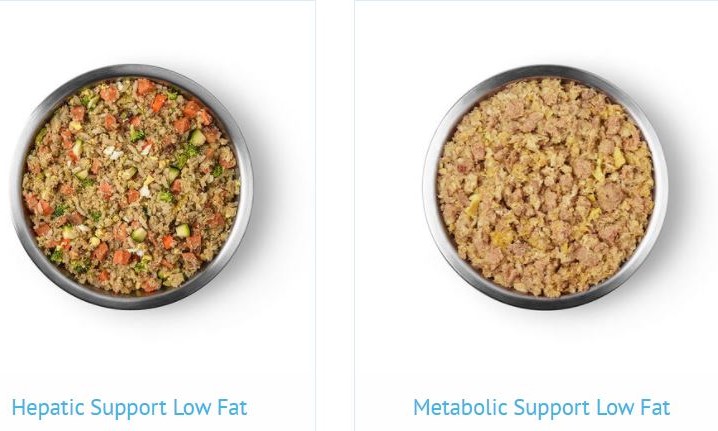 Other veterinarian recommended recipes for underlying disorders include:

Reliable Vet Formulated Homemade Dog Food DIY Nutrient Blends
Just Food For Dogs actually has its own blends so you can easily make your own. Most of them supply up to 39lbs of food! They are kits that ready to go at any time. Furthermore, they contain High-Grade Nutrients, Grain-Free, and Gluten-Free. JFFD's Nutrient Blend is formulated specifically for each recipe to meet NRC RA recommendations. The blend is compounded from 100% human-grade nutraceuticals sourced from a facility regulated by the FDA
Although, One Kit Includes the blends you want to add to your respective recipes. You will get a cooking guide and it can make up to three full batches or even 6 half batches depending on your pup's needs.

Pantry Fresh Homemade Dog Food Recipes
With 100% human-grade ingredients for those dogs that just require a balanced diet rather than a prescribed one. Just Food for dogs offers Ready serve meals in a case of 12. Some of the ones they provide are:
Chicken and White Rice – Includes Chicken Thighs, Liver, Gizzards, USA-Harvested Whole Rice, Gluten-Free, NO preservatives, NO growth hormones. Only 34 calories per ounce.
Pantry Fresh Turkey & Whole Wheat Macaroni – Includes Turkey and Turkey Liver, NO preservatives, NO Growth Hormones. 35 Calories per ounce. Great for larger breed dogs.
Beef and Russet Potato – Includes Beef and Beef liver, Gluten Free, Grain Free, NO Preservatives, NO Growth Hormones. 36 Calories per ounce.
Pantry Fresh Lamb and Brown Rice– NO Preservatives, NO Growth Hormones, and only 33 Calories per ounce.

Reliable Vet Formulated Homemade CAT Food Recipes
Human grade ingredients for your cats! No preservatives and proven to be healthy and good for your cat. Here are some of the products they offer to cats. The JustCats Fish and Chicken, and Salmon Bark Treat for Cats.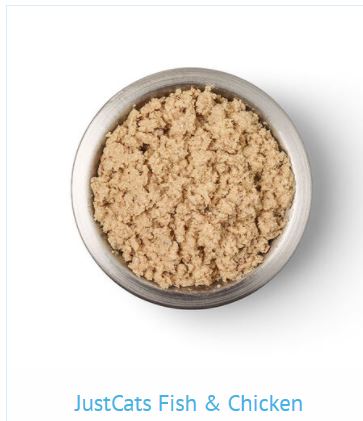 No Preservatives
Gluten-Free
Grain-Free
No Growth Hormones
Ideal for Adult Cats
High Protein Food for Cats
Hydrating Recipe
Ideal for Cats with Allergies or Sensitive GI Tracts
35 Calories per Ounce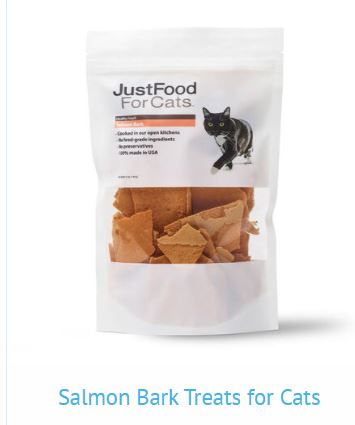 Ideal for All Cats
Low-Fat Treat Ideal for Cats with Fat Restrictions
May be an Ideal Treat for Cats with Food Allergies or GI Disease
BPA-Free Packaging
Daily Regular Meals For Dogs and Puppies
Just Food for Dogs can offer your dog or puppy some great meals for everyday use. Human grade ingredients as well NO preservatives. Furthermore, you can just Thaw and Serve. Here are some of the ones they offer:
Fish and Sweet Potato
Venison and Squash
Lamb and Brown Rice
6 different types of nutrition to choose from
This is a great place to start if you ever thought of making your own homemade dog or cat foods. I would recommend you check out our store to find out more!
Order or Learn More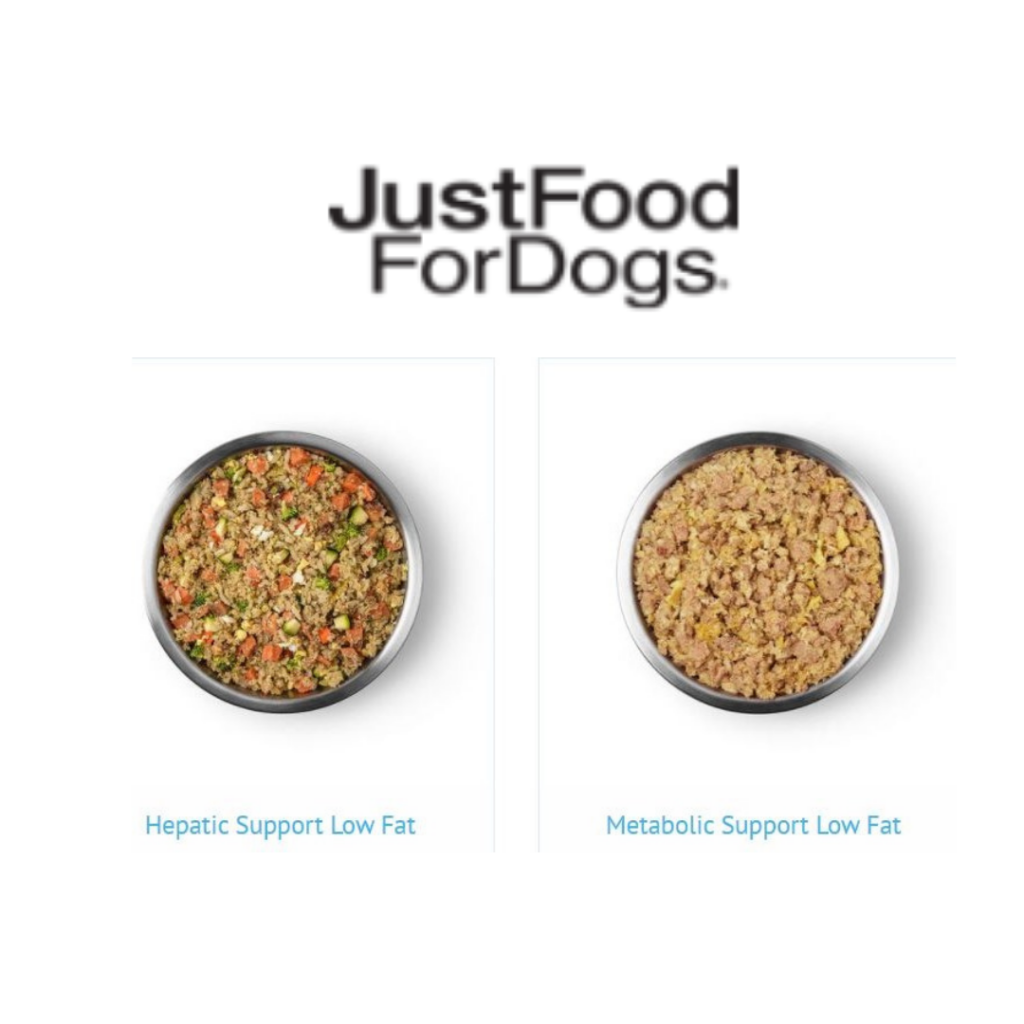 Just Food For Dogs (and Cats) Homemade recipes, Vet approved
*Disclosure: I only recommend products I would use myself and all opinions expressed here are our own. This post may contain affiliate links that at no additional cost to you, I may earn a small commission. Read full privacy policy here."