Making Sure It Meets the AAFCO and NRC Regulations
If You Are In The KW And Area- We Recommend you try Scruffy's Dinner!
**** UPDATE: We have removed the links to Scruffy's Dinner temporarily since the website has been removed and the Facebook page has become inaccessible. However, it is a great story of one person who went out there and started a great business. Through Covid it has been hard for many businesses to stay afloat. So remember to support your local pet business's struggling to stay above water at this time. We hope to see Scruffy's Return in the future.
Things To Consider First:
Ever thought about making your own homemade dog food? Sometimes we have no options in the end care for our pets. Before you can start feeding your pet homemade dinners, you should consult with a nutritionist. Making sure you have the right portions and they absolutely must contain safe ingredients. I spent hours researching recipes for my two ailing senior dogs. One needed to lose weight to help her arthritis. The other dog had kidney issues.
I spent endless hours searching and educating myself on what a dog needs daily. The calorie intake and so much more. It was exhausting. However, I did manage to keep them on the diet for 6 months until we found a prescription diet that was similar to what I was making. Not only was this costly. The time you need to invest in this can be consuming. I had no time to enjoy their senior years with them. I was busy chopping, preparing, and freezing. When you're working and busy it can be overwhelming.
I cannot share any of my recipes or recommend any ingredients. I am not an expert or nutritionist to offer that to my readers. However, I can help you find the information you need from the experts.
The Option I Wished I Had Known About

I can't speak for every area. However, I did find this company locally where I live. They had the help of a nutritionist to design their menu. I only wish I had found them when I had my two senior dogs. They actually deliver only to the KW, Cambridge, and Guelph area and have no preservatives in their foods. It is all restaurant-quality food. Can you imagine the time you could save from shopping to preparing? I know I would have used this. So this is seriously something to consider. The company in our local area on this link has the ingredients you want to look for. Trust me on that one. You can find them at Scruffy's Dinner.
Making Sure The Food Is Balanced
One thing you will need to know is exactly what your dog needs on a daily intake. Talk to your vet about your dog's recommended daily Proteins, Fats, Fiber, Ash, and Carbs for its weight. Take a look at an example of a balance Micro Analysis. Again it will depend on your dog's weight. Ask your vet if your dog may need any additional supplements.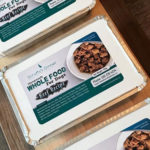 One thing I did notice about the Scruffy's Dinner is that one of the ingredients is Kelp Powder. I believe in my post on Senior Care I mentioned that you can use kelp powder to keep your dog's teeth healthy and free of plaque. It worked for my dogs. I swear by it. As they get old their bones get brittle. Also, they have added in fine ground eggshell powder. I find this absolutely a good choice for a calcium supplement. Trying to add them all in yourself gets very confusing. Especially if you're trying to figure it all out on your own.
Trusting Who Makes The Food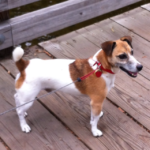 Another thing to look for if you decide to get outside help. Know who they are and what they believe in. You don't want to find a recipe on the web and actually be certain it has everything your dog needs. Make sure it meets the AAFCO and NRC Requirements. That is why I would highly recommend Scruffy's Dinner in the KW and local area only. They have experience because they have done it. Their ingredients comply with the requirements needed. They devoted their time and hearts to the company. Do check out Scruffy's Dinner Story. This is a place worth sharing with anyone you may know in the KW and local area. Or simply just check out their Facebook Page. Pet Frenzy highly recommends this option if you're considering a homemade dog food diet.
Being local to the KW and area allows them to provide all recyclable material in their packaging. Not only do they care about your pet, they care about the environment in which they live. They even hand deliver in our local area only. I would proudly support them in our local community! It's exactly what we need here. This company sets a great example for others to follow! But I can say the will be hard to beat!
If you want to know about the AAFCO and NRC Requirements
The AAFCO requirements and the NRC requirements will help you better understand what your pet needs. If you're planning on making your own dog food, you must be willing to get a good nutritionist. Most of all you will need to take the time to research and understand the regulations. It is very time-consuming,
Work closely with your vet. Make sure you prepare the meals ahead of time. I would suggest a week or two ahead. Or simply just consider having a company do all the work for you! This way you can spend more time with your pet. I would say its worth the extra buck.
Here is the link again if you are in the KW and surrounding area! Please check out their page on Facebook as well. As a community, it is important to share the valuable resources out there for our pets. We hope you enjoyed the article Scruffy's Dinner Homemade Dog Food.