Tried Tested and True Ingredients!
Homemade dog treats are a sure way of knowing what your dog is eating. I have recently been trying out some new recipes. One of my favorites to make are peanut butter and pumpkin treats. My dog loves fruit like banana's so I easily can incorporate those in my recipes.
Peanut Butter and Pumpkin Dog Biscuits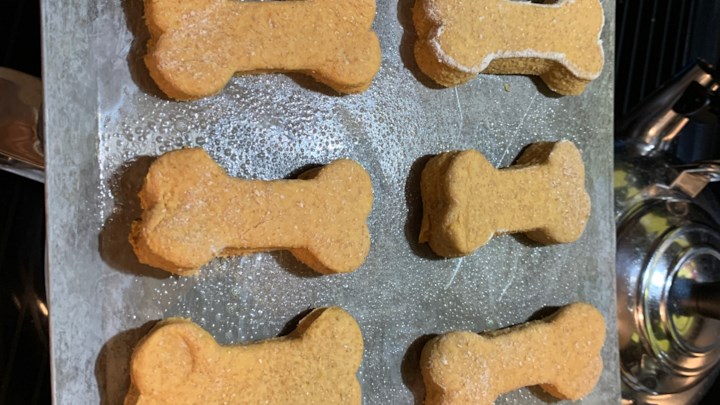 Ingredients
2 1/2 Cups of Whole Wheat Flour
2 Eggs
1/2 Cup of Canned Pumpkin (Most Pet Stores have this)
2 TBSP of Peanut Butter ( Make sure it has no added sugar and preservatives in it!! Especially xylitol! )
1/2 tsp of Salt
1/2 tsp of Cinnamon
Instructions
Preheat your oven temperature to 350 Degrees F or 175 Degrees C.
Whisk together the flour, eggs, pumpkin, peanut butter, salt, and cinnamon in a bowl. Add water to help make the dough workable. The dough should be dry and stiff. Roll the dough into a 1/2-inch-thick roll. Cut into 1/2-inch pieces.
Bake for approximately 40 minutes or until hard.
Sweet Potato Chews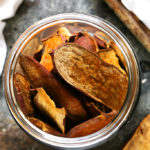 Ingredients
Sweet Potatoes
Directions
Preheat oven 200 degrees and line a baking sheet with parchment paper.
Slice the ends off sweet potatoes to make for easier slicing. Cut 1/3-inch lengthwise slices using a sharp knife or mandolin.
Bake for 6 hours, flipping once during the cooking time. After 6 hours, turn off your oven and leave the chews in the oven as it cools.
Store sweet potato chews in a sealed container for up to 2 weeks.
Homemade Dog Birthday Cake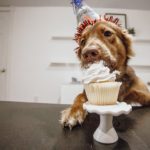 Ingredients
Cake
1 cup flour
1/2 tsp baking soda
1/8 cup vegetable oil
1/4 cup peanut butter
1/2 cup applesauce
1/2 cup pumpkin puree
1 egg
Topping
1/2 cup plain Greek yogurt
1/4 cup peanut butter
Instructions
Directions
Cake
Preheat oven to 350 degrees F.
In a large bowl, combine flour and baking soda.
In a separate bowl mix together vegetable oil, peanut butter, applesauce and pumpkin puree. Once combined, mix in the egg and mix until combined.
Combine wet and dry ingredients and stir until combined.
Pour mixture into an 8″ round pan (a square pan can also be used) that has been greased with oil.
Bake for approximately 25-30 minutes or until a toothpick inserted into the center comes out clean and the cake springs back when pressed lightly.
Allow cooling on a wire rack prior to removing from pan.
After cooling, add frosting if desired.
Frosting
Mix Greek yogurt and peanut butter until well combined. Spread over cake. If not serving immediately, store in refrigerator.
Make Your Own Liver Treats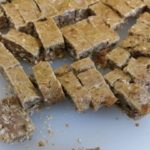 Ingredients
1 Cup Rolled Oats
1 Cup Whole Wheat Flour (or unbleached)
1/2 lb of chicken livers, rinsed and chopped
2 eggs
Approximately 1 tbsp of Olive Oil or Coconut Oil
Directions
Preheat the oven to 325 degrees F (165 degrees C). Grease a 9-inch square baking dish and line with parchment paper.
Add oats to the bowl of a food processor; pulse for 10 to 15 seconds until finely chopped. Pour into a large bowl and add flour. Next Add liver to the food processor and process until smooth, 10 to 15 seconds. Than Add eggs and blend until well combined, about 10 seconds. Add oil for a little flavor and process.
Add liver mixture to oat and flour mixture and stir until well blended. Spoon into prepared baking dish.
Bake in the preheated oven until firm to the touch but not hard and crispy, 30 to 40 minutes. Remove from oven and cool on a wire rack. Cut into doggy-bite-sized pieces.
Beef Liver Training Treats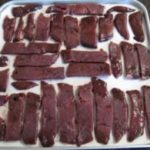 Ingredients
1 lb of Beef Liver
Directions
Preheat oven to 200° F
Line a sheet pan with parchment paper.
Cut liver into strips.
Space pieces of liver on a sheet pan so they are not touching (see note below regarding Spacing). Bake for 2 hours, rotating the pan after one hour.
Let cool on a wire rack for 10 minutes.
Lift the parchment paper off the sheet pan and place it on the wire rack to allow the liver training treats to cool completely and dry out on the bottom. Store in Air Tight Container.
Please note that these recipes have had no effect on my dog's health, I would strongly recommend you talk to your vet before giving your pet these. Also, it will depend on the dog's size and calorie intake.
You can also read our article on Kuhl Pup Treats for dogs with sensitive tummies.
MORE NEW RECIPES COMING SOON!!