Terrible Toby's plan is to make a difference this year by raising funds for the Humane Society International. Pet Frenzy had an opportunity to interview this amazing young entrepreneur Owen Fleming and his furry loved one Terrible Toby! Make sure you check out their new store location at 501 Krug St Unit 123, Kitchener, ON N2B 1L3
PF Interview-Why Owen Started the Terrible Toby's Website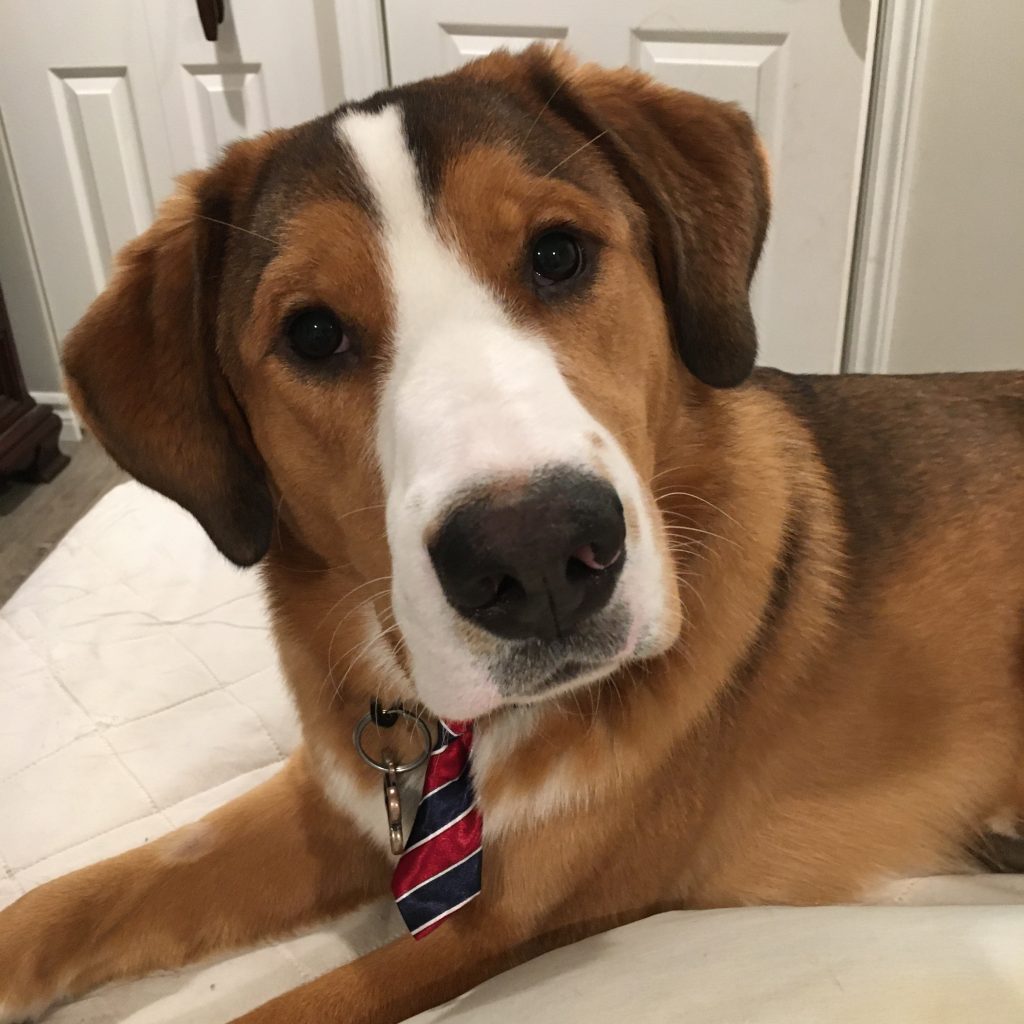 What made you come up with the idea of having a specialized store? A Store that would raise funds for the Human Society International? -Pet Frenzy
"While playing with Toby one day. I realized that so many animals around the world do not get the same type of love and affection that Toby is lucky to get. Therefore, I started to do some online research and found some staggering statistics on the dog meat trade and dogfighting."
"It's hard to describe through writing exactly how I felt, but it seriously made me need to do something. With further research, I found the Humane Society International (HSI.org). They are doing absolutely amazing things for dogs in need around the world. This is what prompted the idea of a fundraiser."
"From there, along with the fact that my other businesses have been shut down due to government lockdowns. I decided to start a dog store to raise funds. It took a while to iron out all the details. And how much I could afford to donate while not losing money myself. But I think I've found the right balance now." – Owen Fleming.
Pet Frenzy is amazed at the motivation and success of Owen's strategizing to keep a balance between the two. It is a wonderful idea and I hope it will inspire more young entrepreneurs like himself. Every small difference can make very big changes if we get the right support.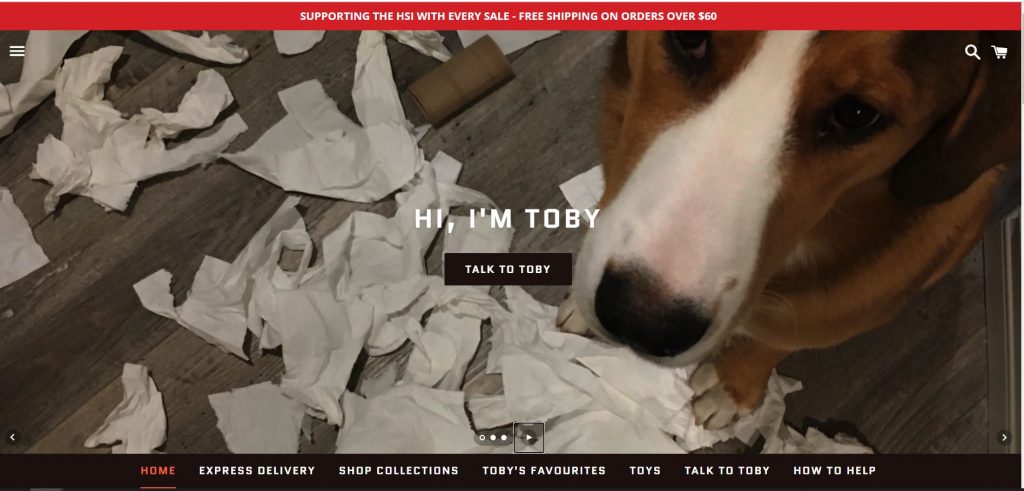 A Bit About Toby's Personality
Could you give us a bit of a background on Toby and his personality? -Pet Frenzy
"Toby is one of the smartest dogs I know… He's a ten-month-old Australian Shepherd X Golden Retriever mix. Who will always find a way to get into trouble if he's not entertained. From knowing how to get away with jumping on the counter, to figuring out how to open doors. He's always pushing his limits a little bit. However, he's still a really good boy, just a bit too smart for his own good…"- Owen Fleming
How Toby Got His Nickname- Terrible Toby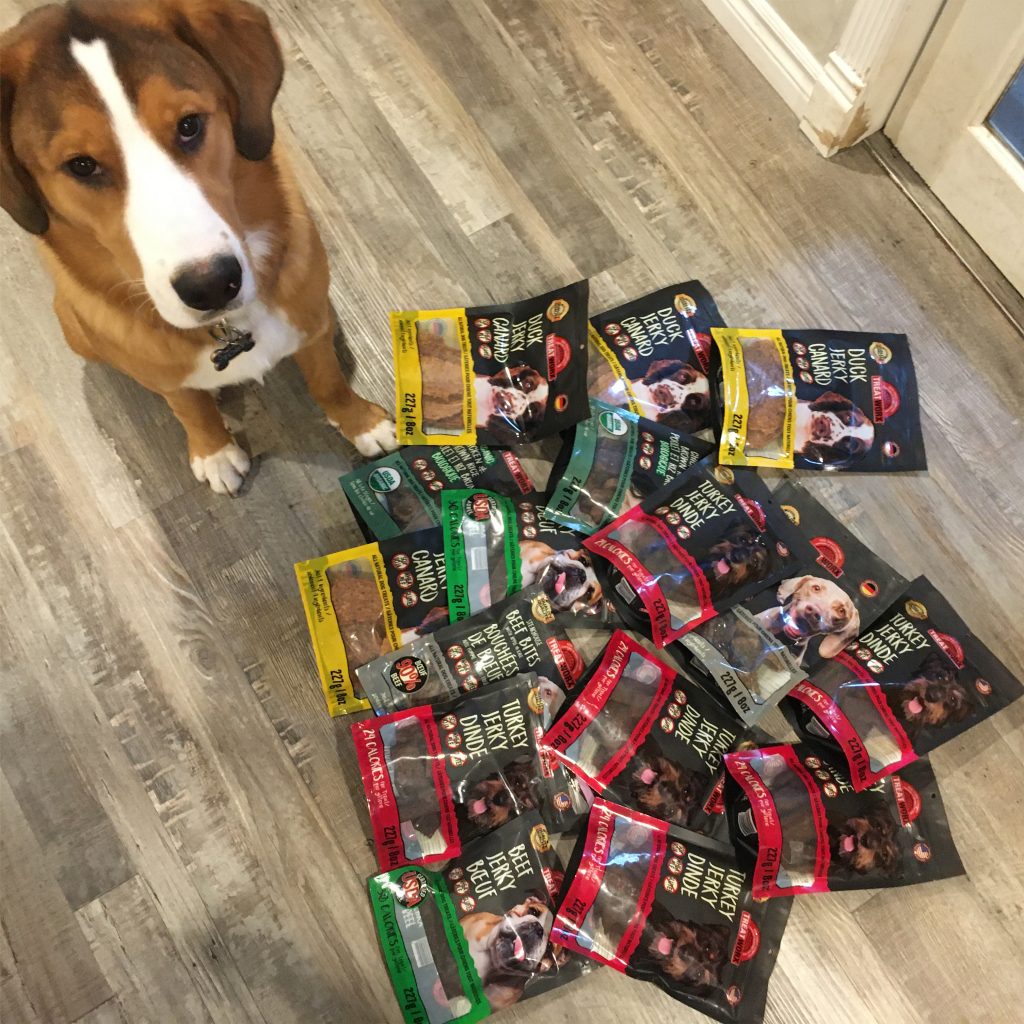 And how did you come up with the name Terrible Toby?– Pet Frenzy
"The name Terrible Toby's came after he chewed a hole in my drywall… I let him sleep on the couch for a night. When I got up he had decided to find out what was behind the wall. With that and all his other shenanigans, I came up with this name. I also think it's really ironic seeing as he's raising money. So he's definitely not a terrible dog, it's all a little inside joke I can share with the world now." – Owen Fleming
About Toby's Favorites
We saw on your website that Toby gets to test all the products out first? Once he has approved the toy does it go up on your website? How does Toby like his new job so far? – Pet Frenzy
"So that's a yes & no there… Certain toys and products still make our storefront even if it's not "toby approved". We do have a "toby's favorites" section that caters to toys that he can't destroy or really likes. But, because of the way Toby chews he simply can't have some toys."
"If there's a stuffed toy or a plushy of some kind it's not going to last long with him. But that doesn't mean it's not suitable for other dogs. It's just not the right toy for Toby. So we let him test them but they don't all pass the tests. Even if they're on the shelf. If you or someone you know has a power chewer,? Head to Toby's Favourites section to find ones that will survive your pup's teeth!: – Owen Fleming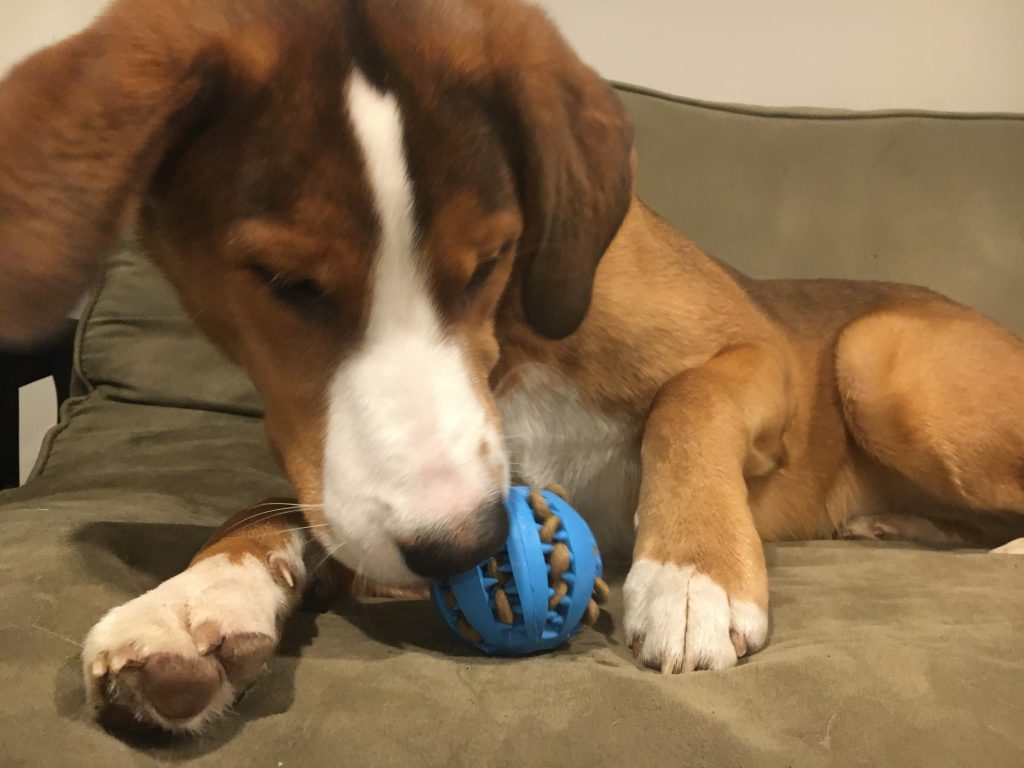 That is a great tip! We know that Toby is a power chewer. So it would be a great start to look at some of Toby's Favorite. -Pet Frenzy
Some Bigger Plans Ahead for 2021-Terrible Toby's Plan to Make a Difference
We noticed in your interview with CTV News, You mentioned you wanted to encourage other new dog owners to be a part of something bigger. What are your goals for the coming year with Terribly Toby's online store? -Pet Frenzy
"Once we've hit our $10,000 goal we've initially set. There may be some more ways that people are going to be able to get involved. I want to start being able to connect dogs that are being rescued out of horrible situations. Connecting them with our customers or just loving dog owners. Basically trying to start promoting their adoptions. Partnering with an adoption agency and becoming more involved this way would be a great way to give back. "
"Hosting events (once these are allowed again) not only to raise funds for animals. But also promote awareness. Connect dog lovers with other organizations fighting for animals directly. Giving dog owners a chance to connect with veterinarians and trainers. For both their dogs and just general knowledge and information they may need. "
Some Future Plans for Terrible Toby's
"Eventually, I would love to see myself in the field in some way helping to shutdown abuse or neglect. And rescue dogs in need. Whether by partnering and working with an organization in the near future. Or by developing Terrible Tobys into its own rescue organization over the long-term." – Owen Fleming
Did you expect things to go this fast for you? – Pet Frenzy
"Not at all… I was quite shocked by how much support I've seen already! And it's really exciting to see everything come together so quickly. I honestly thought, and still kind of do… That $10,000 raised by the end of the year would be a bit too unrealistic. However, with the continuous growth in the support, we're seeing along with in-person sales starting at St. Jacobs Market in December. I think it may actually become attainable very quickly. Either way, if it takes us 3 months or 3 years. We are going to reach that goal… but the amount of support so far has been unbelievable and so incredibly appreciated." – Owen Fleming
Some Advice From Owen if you decide to raise funds for our furry little friends in need
Could you give any advice to those that are also trying to raise funds for animals in need this year? – Pet Frenzy
"Talk about it to everyone, everywhere. At this point, it's one of the first things I bring up in any conversation. I know with the current state of the world it's a bit more difficult to talk to people and meet new people. But, if you have the opportunity, always bring up what you're trying to help do. People want to help animals. And if you can give them an easy way to do it you're going to be successful." – Owen Fleming
Do you provide gift certificates as well on your webstore? – Pet Frenzy
"We are able to provide gift certificates, however, you have to email us to get them set up. Our current site does not allow us to add gift cards as a transaction on our website. But, if you contact us through our website requesting a gift card. We will be happy to fulfill one and send it to you with a personalized code!"- Owen Fleming
Suggestions Toby Can Give You For Holiday Shopping
Also, what are your hottest items this year? And any suggestions you can offer those looking for great gifts for their furry loved ones this year? – Pet Frenzy
"So far, our best sellers are definitely the holiday bandanas, hands-free leashes & our line of dog treats. If you're shopping for someone else's pup we DEFINITELY recommend picking up a couple of bandanas for their puppy. If it's your dog, depending on their life stage, we have tons of good stuff. Available in our "express delivery" section which will arrive in 10 days or less! Our Disney Chew toys, we just added in (VERY cute) and the collection of bowls and auto-filling dishes. These are perfect for puppies and older dogs we've definitely got a lot of crowd-pleasers." – Owen Fleming
For New Pet Owners
Any items you can suggest for new dog owners? I know throughout the pandemic adoption rates have soared for many organizations. (optional) Have you thought about putting together specific packages for that purpose? -Pet Frenzy
"For new dogs, I definitely recommend taking a look at the collars we have. Our express delivery section (with matching leashes available too!). These collars are REALLY lightweight but still extremely durable. Plus, they're really wide which is perfect for leash training as smaller collars can hurt the trachea."
"If you're looking to get completely set up, it definitely depends on your dog size. Our double feeding bowls and collection of rubber /plush chew toys give new dogs a great selection to start teething with. Our chicken and rice treats are amazing for a dog's stomach (puppies tend to get the runs a lot)."
"I've actually put a lot of thought into some ideas such as "Puppy Starter Kits" and "first year with my pup" subscription boxes that grow as your dog grows. Because it's just me & Toby right now, We're mainly focused on localizing and offering express delivery on all our items along with expanding same-day delivery to the GTA." – Owen Fleming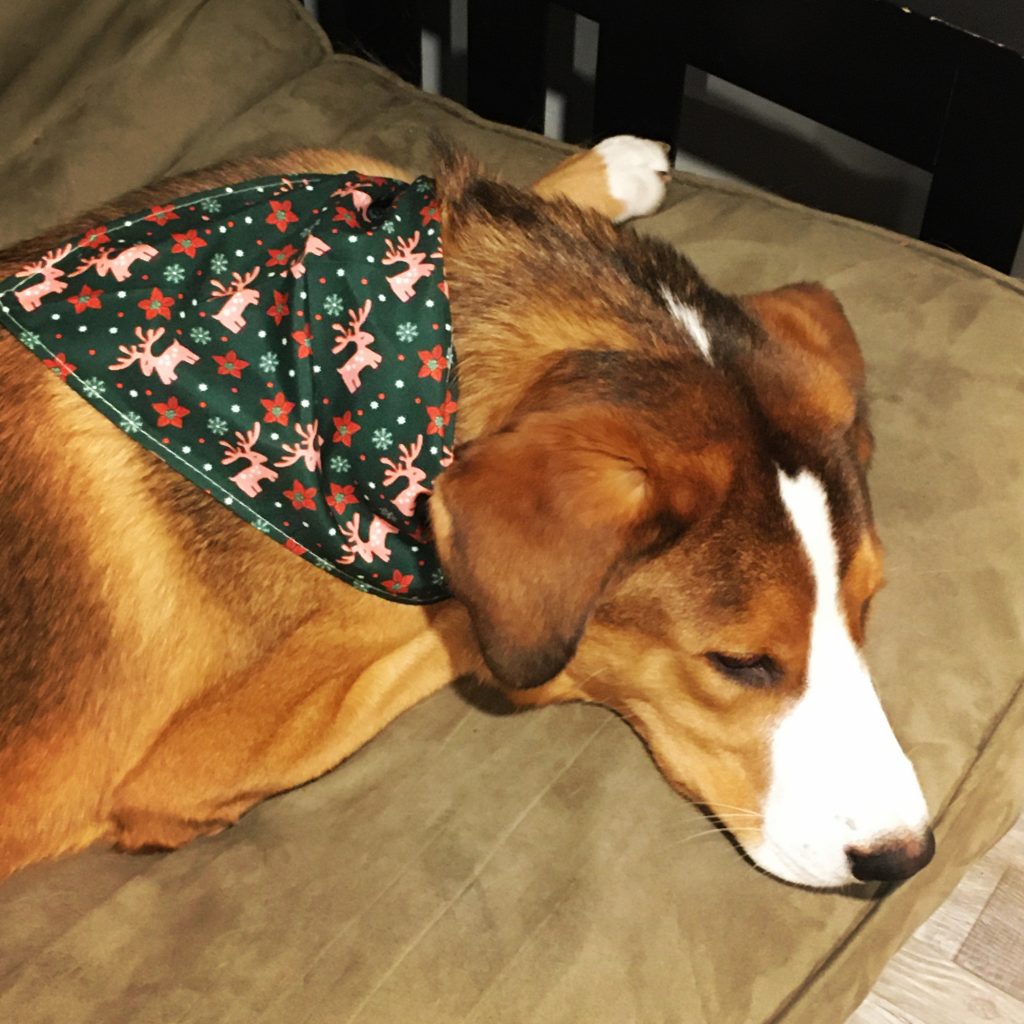 Helping Toby Reach his Goal -How Terrible Toby's Plans to Make a Difference
We also saw that your goal was to raise close to $10,000 by the end of December. – Pet Frenzy
Do you accept just donations as well even with no purchase? Or can you drop-ship directly to other organizations in need?
"Because we are not a registered charity or non-profit, simply a sole proprietorship, we did not want to accept direct donations. Instead, we're directing anyone who wants to support without making a purchase to either:
a) purchase a gift certificate for someone who can use some dog supplies or b) donate directly to the Humane Society International. " – Owen Fleming
We cannot give tax receipts for donations. There would be a lot of trust being put in a third-party company (Toby & I). Accepting donations directly on behalf of the Humane Society.
Other Ways To Help
As for sending items to organizations in need, we would be happy to set this up! We actually hadn't thought of this until you asked but would be thrilled to send new items to an organization on your behalf if you would like. There are several ways this can be done right now…
The first would be to contact the organization and see if they simply have a shipping address they accept donations for. Then, use this address when filling out the shipping instructions on our site. You can also contact us directly via email with your request. We would be thrilled to help manage the process as well as offer a discount on the products so you can donate more to the animals in need!" – Owen Fleming
We are putting Terrible Toby's on our Nominee list this year for his efforts!
Pet Frenzy – Every year we all try and help the pet community in every way we can as pet bloggers/influencers. I guess that is in our nature. We too have a few things we have created to raise funds for places and resources just like Terribly Toby's.
If you would like to find out more you can review our Calendar Page. Once we update everything in January 2021. No purchase necessary to vote. You will have a chance to nominate your favorite resource or rescue place. Or vote for Terrible Toby's as well. Depending on our funds raised of course we hope to choose one of them.
Thank you Owen for the great tips on getting the word out there! We are very impressed with your progress and determination this year! Making a difference one sale at a time!
A Note to Owen and Terrible Toby
We hope more young entrepreneurs will follow your lead this coming year! Keep up the fantastic work and we ourselves have become one happy customer of Terrible Toby's! The website has some hard to find High IQ toys. Especially for those pups like ours that need challenges to keep them busy! The customer service was fantastic and very personable! Pet Frenzy gives Terrible Toby's a Five Star on the project!! And hopefully, many more of you will help support his new venture into the New Year!