Our Review on PetSafe Canada Drinkwell 7.5 L Pet Fountain. These are items you need to see!. We were really impressed with the results so far!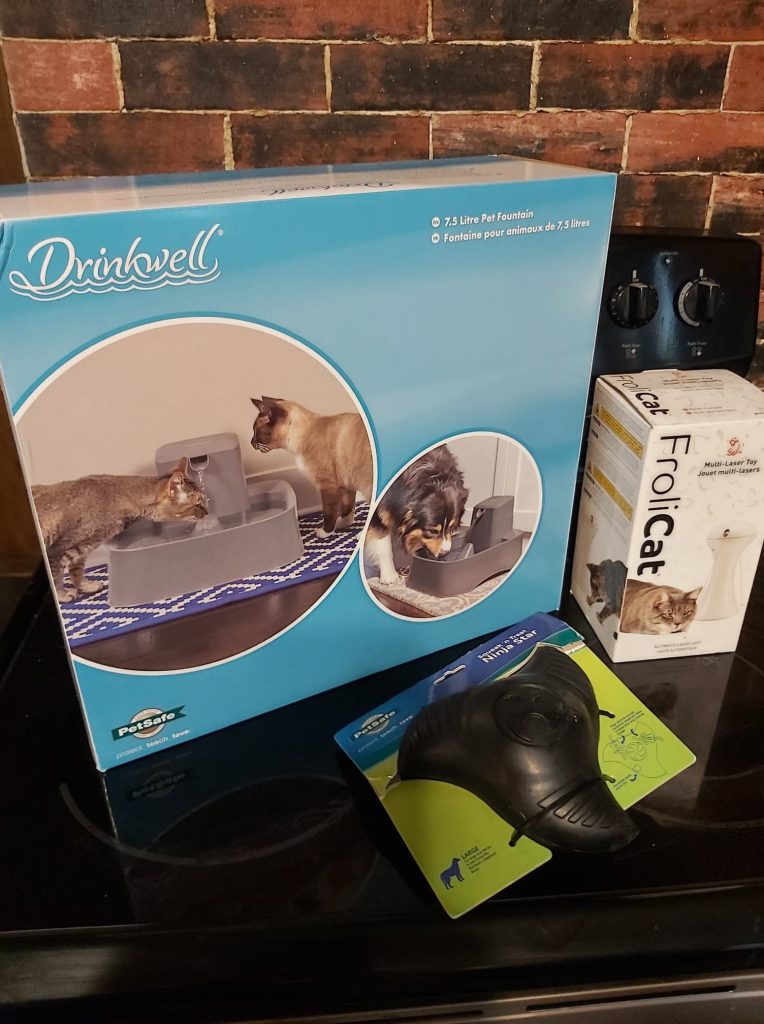 What Pet Frenzy Received
PetSafe® Canada sent us these other amazing items as well. The PetSafe Squeak N Treat Ninja Star and the FroliCat® Multi-Laser™ Automatic Laser Light. Along with the PetSafe® Canada Drinkwell® 7.5 L Pet Fountain. In exchange, we are providing an honest and unbiased review.
We cannot wait to share our results so far. The video will give you a full review of what we experienced with our PetSafe® Canada Drinkwell® 7.5 L Pet Fountain.
The PetSafe® Canada Drinkwell® 7.5 L Pet Fountain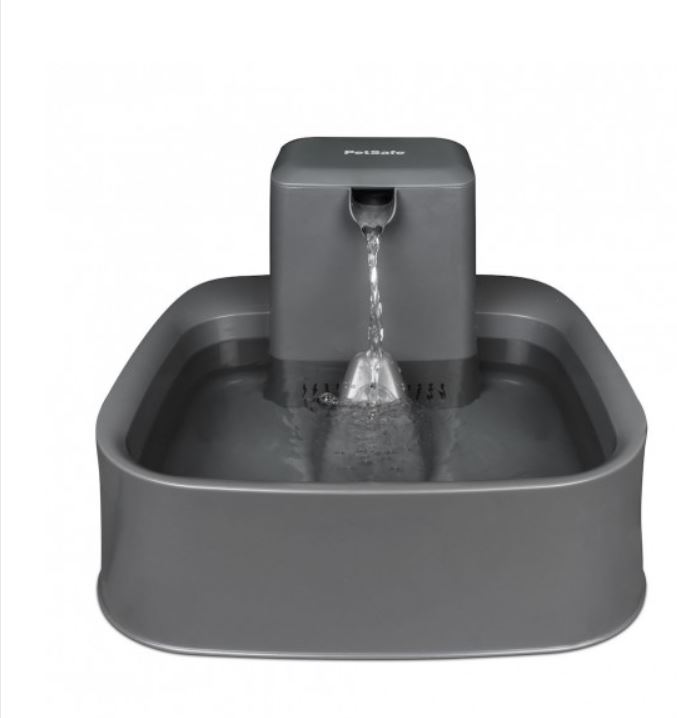 The Design of the PetSafe® Canada Drinkwell® 7.5 L Pet Fountain
The bowl was designed as an automatic water bowl with free-falling water with adjustable flow control. It also has a large capacity for big dogs or multi-pet households. It is large enough for several pets to drink from minimizing splashing. The filtered water system catches hair and dirt before they reach the pump. With constant water flow to prevent bacterial growth.
BPA free plastic design. Activated Carbon filter to remove any chlorine, odor, and small particles. This is dishwasher safe excluding the pump. PetSafe® Canada will also provide you support online, through manuals and a toll-free customer service line.
My Initial Concerns with our Review on PetSafe Canada – Drinkwell 7.5 L Pet Fountain
Returning to work would be a challenge. Specifically with Jasmine. She drinks a lot of water and our current bowl needs to be refilled very often throughout the day. She gets a ton of drool in her dish after drinking. So after she is done I refill the dish with fresh water. However, I am only able to do that since I am currently working from home.
I thought about returning back to the office, this was my biggest concern. Would Jasmine start surfing the toilet for a nice cold drink after her dish is empty or full of drool? Yuck.
The other concern I had about a fountain was, would she play in the water, possibly pulling it out of the wall. You see Jasmine loves to play in the sprinkler or any running water for that matter. So I was curious how this would actually hold up to a 150 lb juvenile/puppy.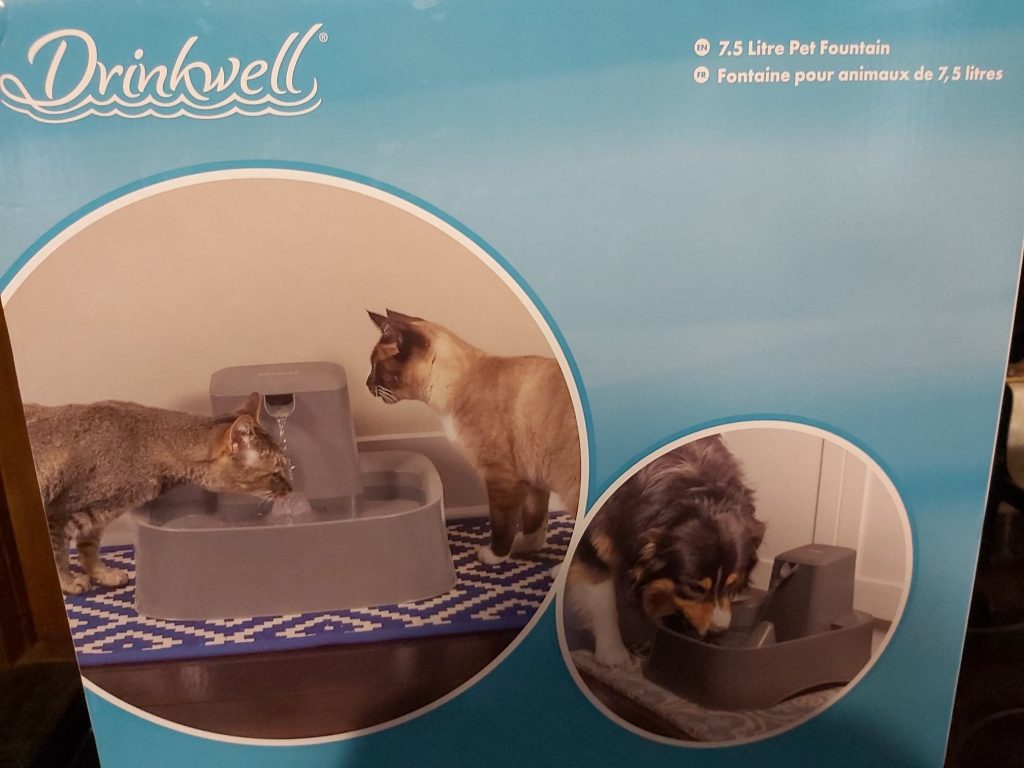 When The Package Arrived
The package arrived and we were amazed at the quality of the items. Very high quality and the bowl is larger than I anticipated! I was so excited to try this out. Especially if I don't have to fill her dish over and over again in one day. Currently, I at least fill her bowl about 25 times a day!
Before using the Drinkwell® 7.5 L Pet Fountain
As you can see her current dish is very small. So after she drinks you can see the before and after that is left in her dish. Yuck! So we are constantly changing her water right after she takes a drink. What happens if we are not home? This is why I find having the pet fountain a huge benefit. Especially if you need to work outside the home or go out for a few hours.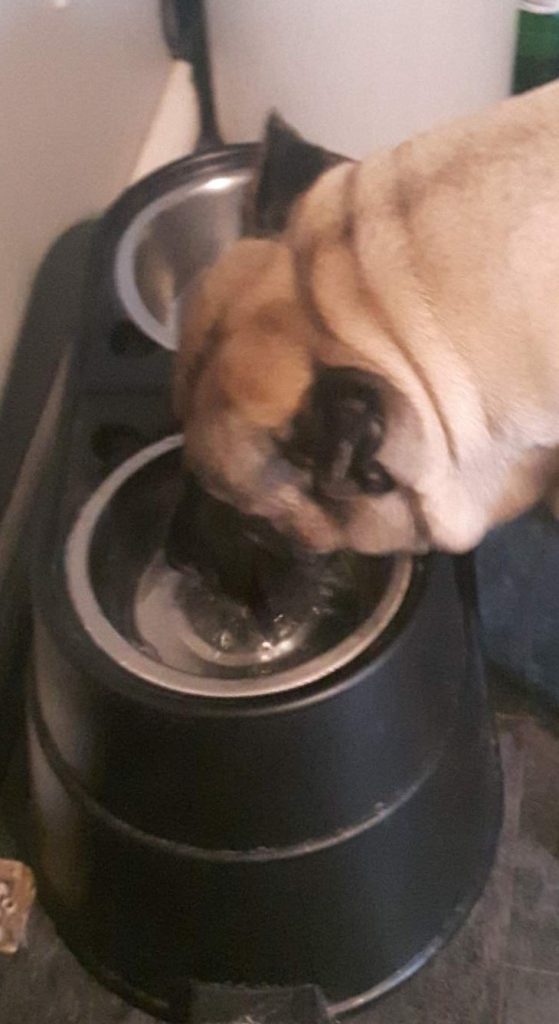 Setting Up the Drinkwell® 7.5 L Pet Fountain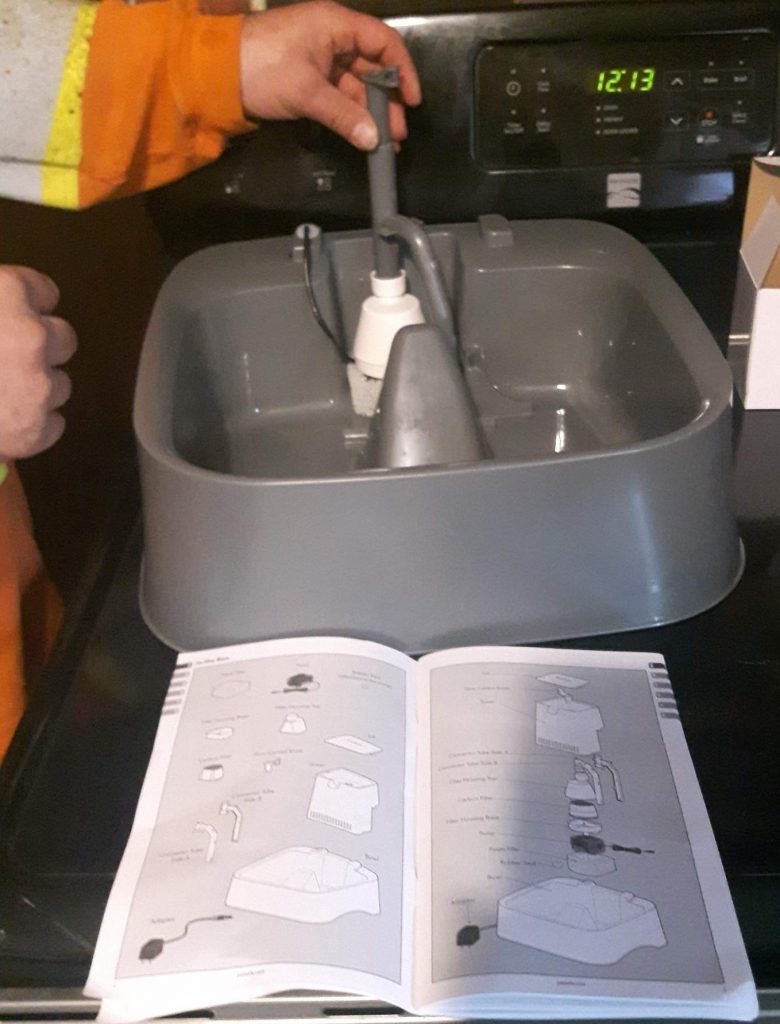 Of course, I asked my husband Mark to set up the fountain. However, we had a bit of confusion when assembling the fountain. Under assembly in the manual, it said to remove the blue tear drop-in pump. So he removed it. Well, the pump wouldn't build any pressure. So we called customer support which was amazing. We told her what we did.
She said put blue teardrop back in. The pump worked fine. After that. It was an easy assembly. I'm impressed with it. When running on high flow it is a little loud, but my husband does find it relaxing. I prefer to keep it on silent mode during bedtime.
The fountain also filters and air rates water the best on full flow. You can quiet it down at night but it does reduce the flow. It won't filter as fast and the air rate does slow down because you are restricting the flow. Here is a picture of what it said in the manual.
PetSafe® CanadaCustomer Support Experience
We did call the customer service specialist line in the manual. PetSafe® Canada does have the best support I have ever experienced with any other electronic product.
The specialist was kind, friendly and we didn't have to wait long to talk with someone. She quickly diagnosed the problem we were having and within minutes we had it all together and running! Excellent customer service!
Results of Our Findings on Our Review on PetSafe Canada Drinkwell 7.5 L Pet Fountain
Pro's
1. No Drool in the dish
2. Fresh Clean Water available at all times especially when your at work for the day.
3. Easy to assemble and good quality parts.
4. Excellent Customer Service support
5. Very affordable price
6. Easy to clean, dishwasher safe (except the electric parts of course)
7. You can replace filters easily and inexpensively
8. The organic charcoal used in the filters is made of coconut shells.
9. You can also adjust the flow to make the fountain quiet.
10. No need to constantly clean after each use. You can do this once a day.
11. Cord is long enough to plug in anywhere.
12. And of course, the Pro's outweigh the Con's
Con's
1. The sound of running water for some of us can lead to more bathroom breaks. When turning it to quiet, it won't filter as fast.
2. If the power goes out, there is no battery back up.
3. Filters need to be changed every 2-4 weeks. Cleaning the machine as in the manual should be each month.
4. Not seen on the website easily as an accessory or option to re-order filters.
5. You should fill the dish once a day and give it a quick clean.
Overall Experience
Overall I find this product absolutely worth it! The price ranges but you can buy this for under $200.00 Canadian. But again it is definitely worth the price. It has saved me so much more time even working from home. Not only do I not have to worry about her running out of the water while I am away. I no longer have to deal with any drool in her dish.
Funny thing is that our Dog likes to drink from the running stream of water rather than the dish. Maybe because she is used to drinking at a higher level or that she is really enjoying the freshness of the water. But you can see her top choice on where she prefers to get a drink. And which dish she prefers to drink from. This is Jasmine's top choice in the video:
As for replacing the filters, you can either buy the direct or even through Amazon in packages of 12 for under $20.00. However, I wasn't able to find them easily on their PetSafe® Canada website, but I am sure they are available and customer service will definitely help you with that!
Other PetSafe® Canada Products Great For Busy Lifestyles
I am actually excited to explore some more of their tech items on the website. I am only mentioning these because I feel they can go with the Drinkwell® 7.5 Litre Pet Fountain so well. It is definitely a purchase we plan on making in the future.
Especially the Automatic digital feeder. You can operate through your cell phone. Considering most of us lead such a busy life and schedule. This is a great option so you never miss a feeding time.
Combined with the Drinkwell® 7.5 Litre Pet Fountain. You are sure that your pet is getting fresh water all the time and you can feed them even when you're away from home during the day. This would work great with Cats as well. If you leave your cats for a day or two, they also have a self-cleaning litter box you must see!!
Other PetSafe Products We Reviewed
The PetSafe Squeak N Treat Ninja Star!
This is a must-see review. Our dog has always been a fan of puzzle toys. She has almost everything out there. This toy is great just to play with. We have a great video demonstrating the cuteness that these toys create!
She didn't even need treats. I really was surprised, considering she has a Kong Toy that she really can't be bothered with unless there are treats in it.
The FroliCat® Multi-Laser™ Automatic Laser Light
The cats absolutely found this amusing and fun. Especially if they have played with a laser toy before. When the cats are not playing with it. Jasmine takes her turn!
Either way, all the PetSafe® Canada items we did receive are a definite thumbs up! You won't be disappointed with the service or the quality! We highly recommend PetSafe® Canada for your everyday pet needs! And most of all it is :