How to Boost Site Speed and Improve Google Ranking in a few simple steps. As you all know we just had the Pet Bloggers Journey Blog Hop. I realized that most of the common goals we had this year were about Improving our Google Ranking and Site Speed. This post will tell you how to do just that. I haven't actually tried it yet but really wanted my fellow pet bloggers to know about this great feature.
*Disclosure: I only recommend products I would use myself and all opinions expressed here are our own. This post may contain affiliate links that at no additional cost to you, I may earn a small commission. Read full privacy policy here."
Download MonsterInsights Plugin For WordPress
After You Install Your Plugin Connect To MonsterInsights
After installing your plugin, be sure to connect your Google Account with MonsterInsights. I do have another post if you haven't yet set up your Google Analytics Account that may help you.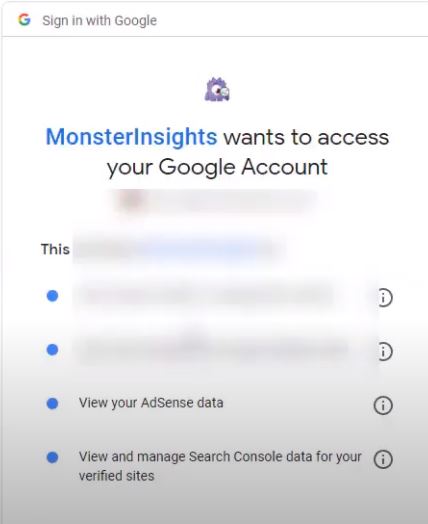 MonsterInsights Has A Site Speed Report
After activating your MonsterInsights Plugin in WordPress and you have set up your account. You can now go into your settings under Site Speed. If you have not upgraded to the Pro version yet. I would highly recommend it. You will see a message like this if you go to the Report page/Site Speed Tab: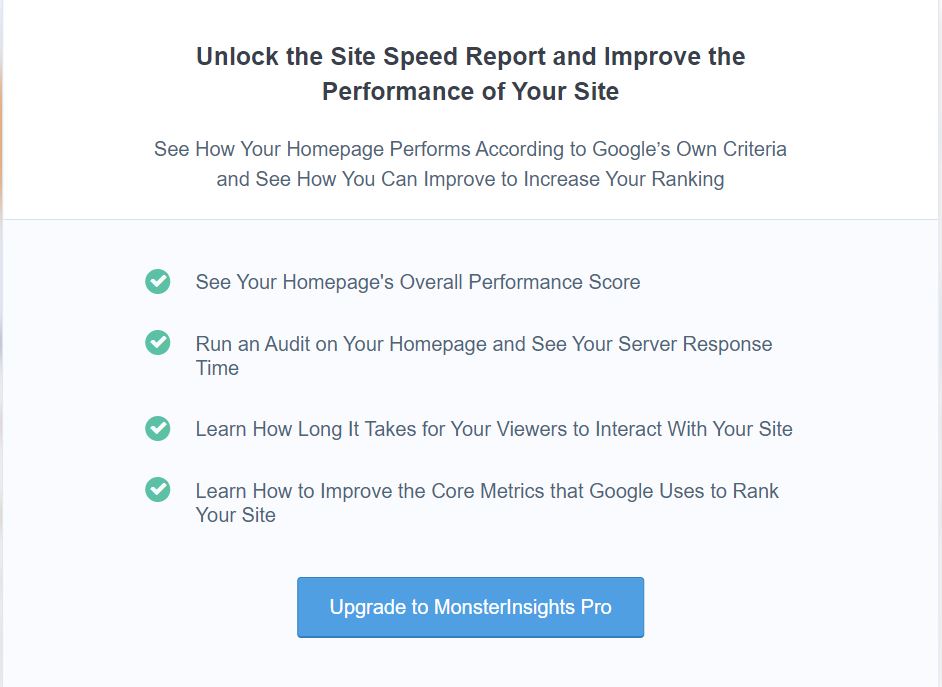 Sneak Peek of the Dashboard
Although I haven't used the site speed report. I do plan on using it this year to help me save time on viewing the overall reports right from my dashboard. Being a newer website means I really am still focusing on improving performance and overall SEO. Here is a sneak peek at the Dashboard- Source MonsterInsights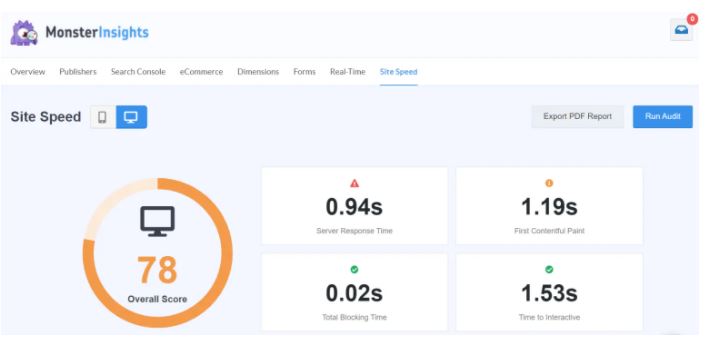 Why should we use a Site Speed Report to Rank Higher In Google
We really should use a site report to help provide visitors a good user experience. Increasing your page speed can help you rank higher with Google.
Googles Ranking includes Core Web Vitals Starting May 2021
That's because starting May 2021, Google is going to use it as a ranking factor and includes it as part of Core Web Vitals. What I love about the new site speed report is that it will be able to show you the following information:
Server Response Time- So you can improve it
First Contentful Paint- All your visual Elements
Time to Interactive – Response to actions to like filling out forms
Total Blocking Time – Measures the interaction time
Offers Goals for each metric and provides recommendations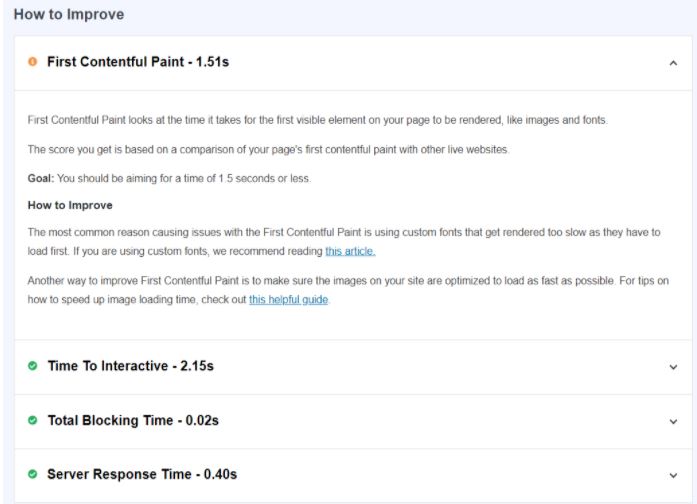 The Best Part – The Year in Review!
MonsterInsights offers a year in review available from January 1 to January 14. It definitely will help a lot of us next year to maybe compare our results to the previous year. For those that already received their year in review, it may look something like this. (Again this is from the MonsterInsights Website Post on the new Site Speed Report.)
Boost Site Speed and Improve Google Ranking
As I discussed in our Pet Blogger Journey Blog Hop putting together your media kit can be challenging trying to get all your stats in one place. MonsterInsights is easy to use and does all the coding for you! I especially love the wizards and anyone thinking of putting together their Media Kit for the next year should really start using this plugin now. I know I will be just for the time it will save me on gathering all the information. That way next year you can easily share your most important accomplishments and have proof to share with others.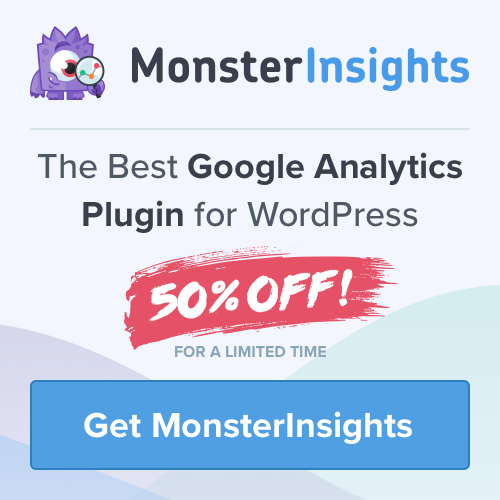 MonsterInsights
*Disclosure: I only recommend products I would use myself and all opinions expressed here are our own. This post may contain affiliate links that at no additional cost to you, I may earn a small commission. Read full privacy policy here."