We Want To Hear Your Story!
We are always looking for rescue stories. Send us a picture of your Rescued Furry Friend. Make sure to give us details on your pet's story. You can send us more than one picture. Please try to keep it between 500-1000 words.
Content We Are Looking For
We are looking for new pet rescuers that have adopted a pet and have had some challenges. We want to know how you overcome those challenges and what you can suggest and offer to other new pet owners.
If Your Story Is Chosen
We will publish your story and pictures of your pet in our next featured blog. Our feature story will also be published in our newsletter. Here is an example of a quick one I did about our rescue pup Jasmine: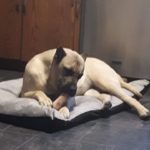 Jasmine's Story
We rescued Jasmine in February of 2019 from our local Humane Society. She was 94 lbs and 10 months old when we got her. Now she is 145 lbs and still growing. We didn't have any background on her. They didn't know much about her. We did know that she was a very large Perra Presa Canario.

She had severe fear aggression when we first got her home. I started click training her to teach her the basic commands. Sit, Stay, Down. With the help of a professional trainer. We were able to rehabilitate her. It took alot of love an patience.

Having a powerful breed like her. The click training helped her overcome her anxiety when she first came to our home. She was scared of everything. But with love an understanding we were able to build her confidence. Help her make the right choices. And we could never be happier.

It had been 2 years since we lost our other dogs. I never thought I could bond like that again with another dog. I was so wrong. So when I tell people about my rescue. I make sure to tell them. She rescued us too. I would do it all over again in a heartbeat.

Bren – Pet Frenzy.ca
This is just an example of one. So if you have a story or tips on what to expect when you rescue a pet, We would love to hear from you.
If your story is chosen. We will contact you through email. You will need to submit a photo release form before we can publish your story. You can also download the form below and attach it to your email when submitting through email. Although this is not necessary. We will send you a confirmation email with details on the terms and conditions.
Email us directly at [email protected] or contact us on Facebook. Or Twitter. Don't forget to like our page or follow us on Twitter!
Submit Your Story
You can submit your story using the form below, We will contact you within 24 hours to let you know if we can publish your story.
Our goal is to help others through education and experience with new rescued pets. Sometimes you just need inspiration rather than returning your pet back to a shelter. Your support and stories can help others overcome the challenges of adoption.