Purple Cat Press Has Something To Help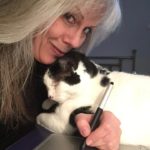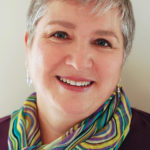 Teaching children about responsible pet ownership can be challenging. I really wanted to share this story of Purple Cat Press who publishes books for children. Their books are about rescued cats, about real cats that came into their lives. Because, by telling Ossi's and Ying's stories, it allows them to teach others about responsible pet ownership and advocate for pet rescue and adoption.
Pet Frenzy got a first look at what Purple Cat Press was all about!
They Give Back To Our Community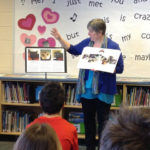 Purple Cat Press gives back to our community through advocacy and free Author Visits. Ossi's and Ying's stories have each been read to over 3,500 children in Grey and Bruce Counties. The kids are amazed and very interested in the process. They talk about rescue as well as the writing/illustration/publishing and storytelling process when visiting the children.
They will book half or full days at schools depending on the location. Reading to children Kindergarten-Grade 8. ( 7-8s still secretly like to be read to).
About the Illustrator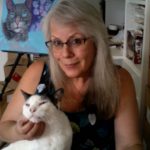 Debra Toutloff – Our family has known her for over 10 years personally. She is passionate about what she does. Also, She has rescued many cats and devoted her time to helping them. Debra studied Advertising and Graphic Design at Humber College and furthered her illustration studies at OCAD University
The Author Ellen Rumsey told Pet Frenzy that: " Deb has captured the personality of each cat perfectly through content, technique and color choices. Of course, she knows her subject matter well too! With kids Grade 2 and up, I include boards that show how Deb built one illustration out of each book – the kids are amazed and very interested in the process. "
About the Author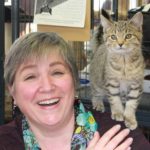 Ellen Rumsey – A close friend of Deb Toutloff's for over 40 years and has devoted most of her life to helping support cat rescue and organizations. Reading in classrooms and libraries. Ellen studied Graphic Design at OCAD University and furthered her studies at Queen's University in English Language and Literature. She has been a practicing graphic designer and wordsmith for more than 30 years.
Ellen told Pet Frenzy that once the books were published, she established a relationship with a local rescue that she did advocacy and foster for until it closed in June 2018. With the operator of the rescue, Ellen developed a short education program that she shares with students as part of her presentation. You can contact the author directly or through Facebook and Instagram for more information.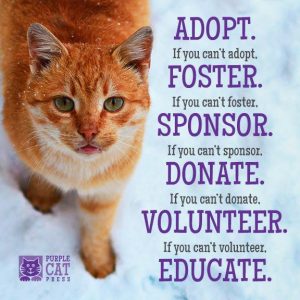 "We talk about rescue in broad strokes, including cat stats (reproduction rates), the importance of spay/neuter, what to do when you find a stray, a "free" kitten is not "free" (cost of ownership), how to be a responsible pet owner, the three kinds of cats that come up for adoption (surrendered/stray/special needs), and how you can help (donate, foster, volunteer, etc.). "

– Presentation described by Ellen Rumsey
Teaching Our Children Responsible Pet Ownership
A great read for our younger generation. The importance of being a responsible pet owner. It would make a great gift to a child that just got a new kitten or plan to in the future.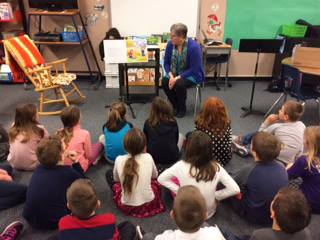 Overall they will learn the right things to do if they should ever come across a stray cat. It will make learning about responsibility fun and exciting. A book they can treasure for years and share with their children.
I would highly recommend these books. Mainly because I believe in what the author is doing. Their stories will touch your heart showing you who they really are.
Both Ellen and Debra have taken action and used their skills to do so. It is all Canadian about Canadian Cats and the struggles they endure. A voice for those without one. I would have to say they make the purrrfect team! Meet the Cats that inspired these stories.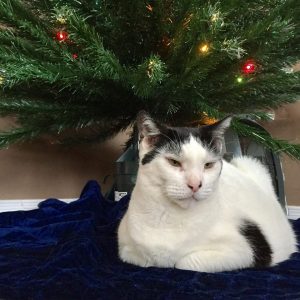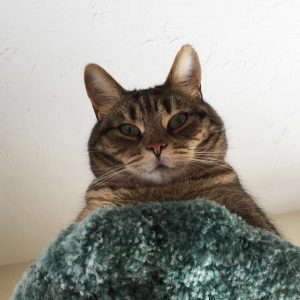 About Bad Kitten
The Book called Bad Kitten – "Ying has been called "bad kitten" his entire life, and while he's a cat and probably doesn't care much about that. How would he feel if he were human? This usually opens up dialogue about labeling and name-calling. Which is also a great topic to openly discuss with children.
"I remind the audience too that "most of us in this room are like Ying – energetic, curious, and unique in our own ways, and we shouldn't be told we are 'bad' or 'big trouble' just for wanting to learn and enjoy the world we live in". – Ellen Rumsey
About Finders Keepers
Finders Keepers – about rescue and responsible pet ownership Steps they took to ensure they weren't taking someone else's cat. Ossi has the adventure to tell as well but, I will stop here so I don't spoil the fun.
Click on the Pictures below for a peek preview of the book before you buy it! Your support helps the community and our children by educating them as well.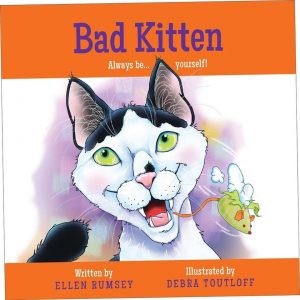 Pet Frenzy Tips – Teaching Children About Responsible Pet Ownership
Teaching your children about responsibility. Feeding their pets becomes just that. This helps the pet understand where the food source is coming from. Your child will then gain trust with your pet. By doing so will teach your children time and measurements as well. Your pet will know where the food comes from. But by all means, if your child forgets you must teach them it's not ok to make the pet go hungry because you're busy with other things.
Establish a routine. It again helps with teaching your children about commitments and the importance of having one.
Grooming teaches your children that they now have a dependant, they will need them to take care of the nails, ears, and eyes. Remember to brush your pet and make sure they look and feel their best as you would yourself. Check the teeth for any plaque or pale gums.
Encourage bonding time. This means your child must know in order to bond with the new pet they need to play with them. Walk them or teach them new tricks. The time spent together will help children understand. That even though we may have other responsibilities we must always make time for our furry little loved ones. Just as you do for them.
Know when your pet will need to see a vet. Teach your children about the pet's health. If their pet becomes ill the first step is contacting a vet. Like when we need doctors to get help with our health.
Remind your children a puppy or a kitten is like a child. However, they need a lot of patience, love, and understanding.
Most of all caring for the pet's personal space. Also making sure the bed is clean and all the toys are safe. Just like a baby brother or sister. Show them how to make their space clean, safe and inviting. You can have them help with litter boxes and picking up the doo-doo in the back yard and on walks.
Quick Links to Purple Cat Press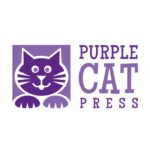 Remember you can reach them on Instagram or Facebook as well. Or click on Purple Cat Press Logo and go directly to their website. Remember Sharing is Caring with anyone you know that may need to read this article about teaching their children about responsible pet ownership.