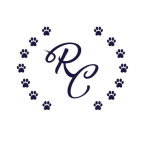 Services Refined Canine Offer
Refined Canine has many different services available. Positive Reinforcement training is just one of them. They offer house calls on Resource guarding, Leash manners, Reactivity, Basic obedience, and Recall.
Sit and Stay services offering your dog a loving home while you're away. Puppy Imprinting, and of course the obedience training. Dedicating themselves to offer you the best care not only for your furry little ones. But for your feathery or scaly pets as well. You can find them on Facebook as well as the website. Based in the KW and GTA Area.
What is Positive Reinforcement Training with Refined Canine?
Refined Canine is dedicated to positive pain-free training. Offering rewards for good behavior. Timing is key. The method has been proven to work especially since dogs are naturally food driven. It builds trust and confidence in your dog.
Why Hire A Professional Trainer?
We hired a positive reinforcement trainer from Refined Canine in Kitchener and area. It was the best decision we could have ever made. We had rescued our dog Jasmine from the local Humane Society. We didn't know much about her background. But when we got her home we were shocked at how much fear aggression she had towards everyone and everything. She had no trust left in humans what so ever.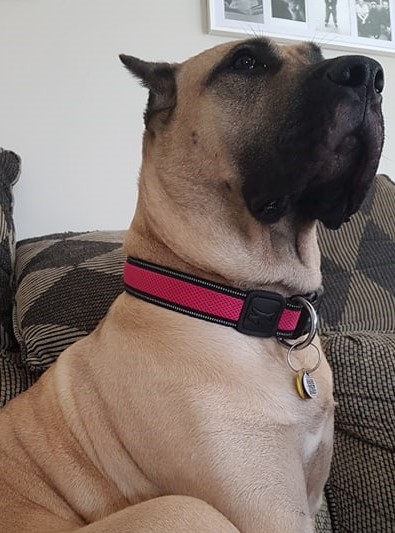 Before The Training Begun
So here we are with a (back then) 120lb puppy Perro Presa Canario that didn't even know her name or how to sit. She would bark aggressively at every person and dog she saw. It was terrifying, to be honest. She had her ears clipped from what we think was a home job.
She wouldn't let us clip her nails or even touch her ears. And even worse if she saw someone with a hat or glasses she would lunge and bark so aggressively we had no control over it at all. We knew we had to call a professional or this dog would end up biting someone or another dog out of pure fear.
Refined Canine Came To Our Rescue!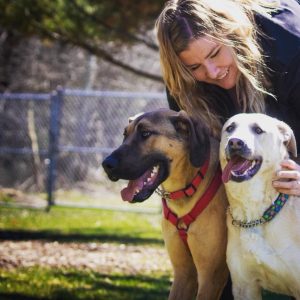 We searched daily for the perfect trainer we could trust with our precious princess jasmine. She needed someone with patience and understanding of her fears. The Humane Society we adopted Jasmine from suggested we call Refined Canine. Kyla had worked with them for many years and they raved how she has rehabilitated many of their dogs at the shelter. So we gave them a call. It was far beyond our expectations! And I had to share this story with you all.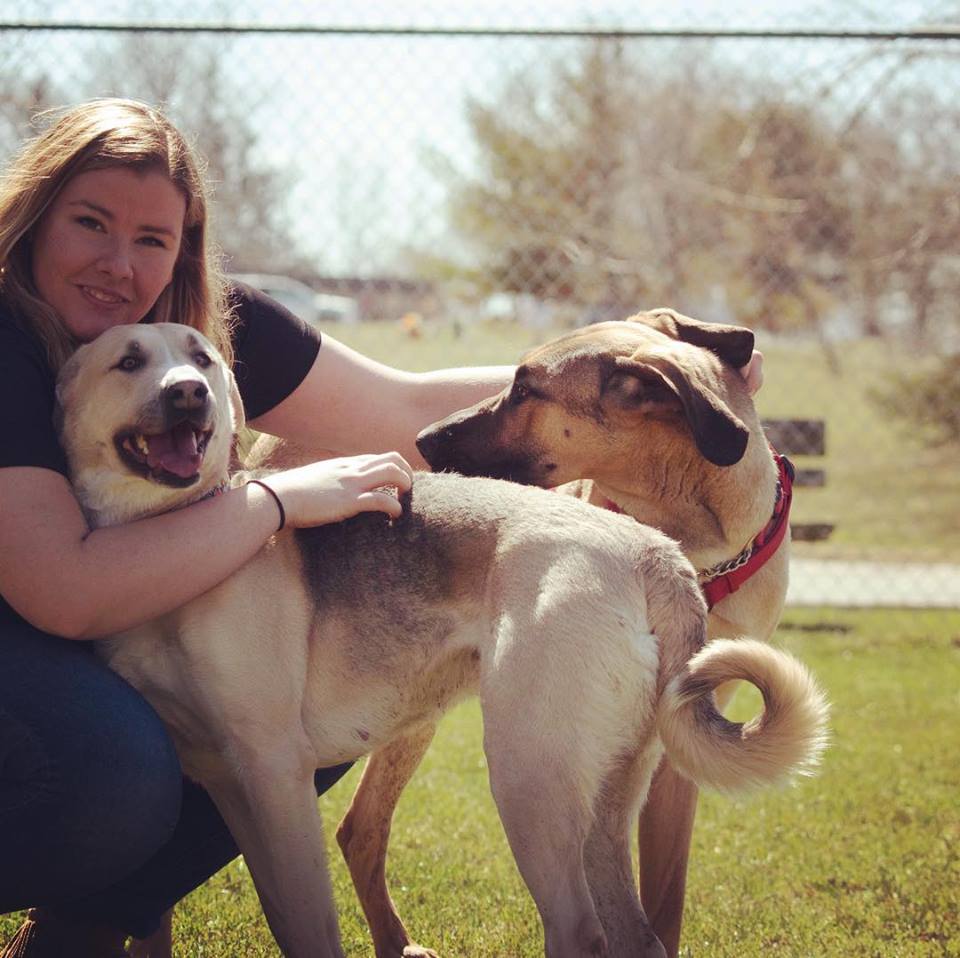 Meet Kyla
Kyla started at the local shelter in the summer of 2012 where she developed her skills and increased her love for dogs. There she shadowed under many wonderful trainers and worked closely with a number of rescues and other SPCA's in the country.
Kyla is also a student of CCS and is a member of the International Positive Dog Training Association (IPDTA). At the shelter, she was responsible for the assessments of each dog creating individual behavior modification plans and rehoming thousands of dogs.
She has also spent much of her time educating city bylaw officers, government agencies, and other shelters. She specializes in dog behavior and aggression. Currently, Kyla is offering, board and train, imprinting, basic obedience, in-home training, education, and behavior therapy.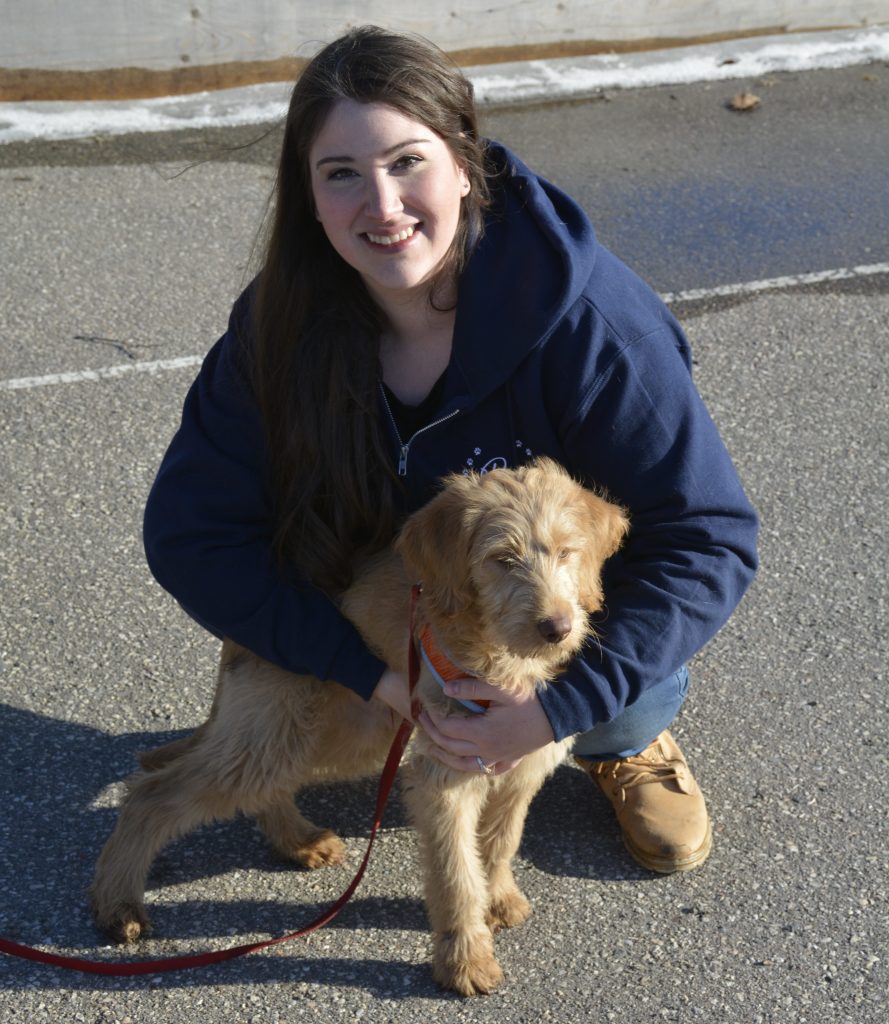 Meet Heather
Heather attended Northern College where she graduated from a 3 -year Veterinary Technology & Wildlife Rehabilitation program. During this time, she became a Registered Vet Tech and started her career working with laboratory and shelter animals. After 8 years, she decided to take a step back from animal medicine and focus on dog training.
Heather is now enrolled in Norma Jeanne's Canine Correspondence Studies (CCS) dog training program. Until she becomes a certified trainer, her focus at Refined Canine is to offer exceptional pet sitting, boarding, and dog walking services.
What You Can Expect From Refined Canine
Although I haven't had the pleasure of working with Heather yet I can tell you that Refined Canine was absolutely more than what we had expected. Not only do they offer affordable pricing compared to other trainers. The value is far more than what you are paying. You can clearly see that helping the dog and animals is their first priority. Making it affordable is a huge bonus. Even with us on such a small budget at the time.
Having your dog cared for by Heather being trained as a registered Vet Tech can give one a peace of mind for sure. I definitely would not hesitate to take advantage of their other great services. Which we plan to in the future as well.
Our First Meet And Greet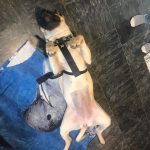 This is a picture of Jasmine when she first met Kyla. Amazingly enough after only a few minutes of meeting each other, Jasmine rolled on her back in submission and trust. It blew our minds. Is this the same dog??? To this day she still doesn't react this way to anyone. Jasmine immediately showed Kyla trust and love. Absolutely amazing!! That alone has to tell you something!
Our Consultation With Refined Canine
During the first appointment, Refined Canine discusses what training is needed. Your trainer will ask you tons of questions to get to know all she can to plan her training schedule with you. She also showed us some basics to practice until the next visit.
Kyla observed Jasmine's behavior and listened deeply to each of our concerns. We wanted a dog that will be friendly and loving toward everyone she meets. Dogs are naturally protective but Jasmine was beyond being the norm at the time. Our new dog had no prior training or socialization. You would not even know that today though!
Our Results With Positive Reinforcement Training With Refined Canine
Refined Canine believes in positive reinforcement and patience. Every bit of advice was right on point and worked every time. We started using the clicker to train Jasmine. Fortunately, she had a very high food drive. Jasmine started building trust. And by the end of our training, Jasmine could sit, stay, come when she was called. We could clip her nails and even clean her ears.
Jasmine learned how to walk loose leash without pulling or lunging anymore. We could walk up to anyone and she would greet them with a wagging tail and kisses. Even other dogs. You would have to see it to believe it! Refined Canine really lives up to its name. You can view our training videos on their Facebook page.
Refined Canine Saved Our Dog
I can honestly say I was dumbfounded by the results. Don't get me wrong we had to really work on these instructions that were given to us. WE had to do the work. Kyla showed us things we would have never learned on our own. I researched for hours on end and watching endless U-tube videos and nothing compares to the support of a professional.
Refined Canine gave us the confidence we needed and the support to help us get Jasmine back to being a dog again. We will forever be grateful for the rest of our lives for the knowledge that she gave us. We can continue to save other dogs that are normally overlooked thanks to the knowledge she gave us through training.
I have mentioned how important having a professional to help is in my Basic Training and Advanced Training for Dogs. These are the exercises I used to impress Kyla with each visit. I still practice these to overcome Jasmine's boredom sometimes.
Inspiration Behind Refined Canine
The Hard Truth About "Broken Dogs" is a great article on their blog. It is a harsh realization of what happens when you give up on your dog. It's very clear that her job hasn't always been very easy. The article is heartbreaking and I believe that is why she fights so hard for them and is dedicated to saving every dog she can. Her words of advice from this article are:
If you take anything from this post, let it be this. Socialize your dog properly, if you have troubles- contact a trainer who is certified in positive reinforcement and work with them.

If you need to re-home your dog, use reputable rescues and know where they are going. Lastly, if you lose your dog, please do not give up on them. Search, call local shelters and rescue groups and have them chipped.

Don't leave them out there on their own please.

-Kyla from Refined Canine
In Conclusion
It takes love patience and professional help. Don't give up or get angry with your dog. It is not their fault they need you to teach them correctly. Call to get help with Positive Reinforcement Training with Refined Canine
I can honestly tell you that using this service has changed our lives not just today but forever. We were given the skills to help dogs with fear aggression. My husband and I misunderstood these dogs most of our lives. We know how to approach one now and most of all Jasmine has been living proof that these methods work on the hardest dogs to train.
If you would like to know more about Positive Reinforcement Training, Refined Canine can change yours and your dogs' life forever. Stay tuned for more posts on their website this coming year. In 2020 Refined Canine wants to focus on why force-free training is so important. The strides we have to make in any animal industry to be as cruelty-free as possible.
Through her experience, so many dogs are mistreated even by owners who have the best intentions. Kyla personally also wants to focus on fixing the public's outlook on certain breeds. I personally can agree to this as the bigger the dog the nastier people are to you and them.