Who is Murphy and the 2 Foot Long 2lb Peanut Free Dog Treat? Pet Frenzy can tell you. First I want to tell you all about Travis. Travis is a YouTuber with his dog Murphy, who just turned 4 recently. For her birthday, Travis made a 2lb 2 foot long peanut-free dog treat! The recipe can be found on Food With Feeling a website with a bunch of great recipes for your pet.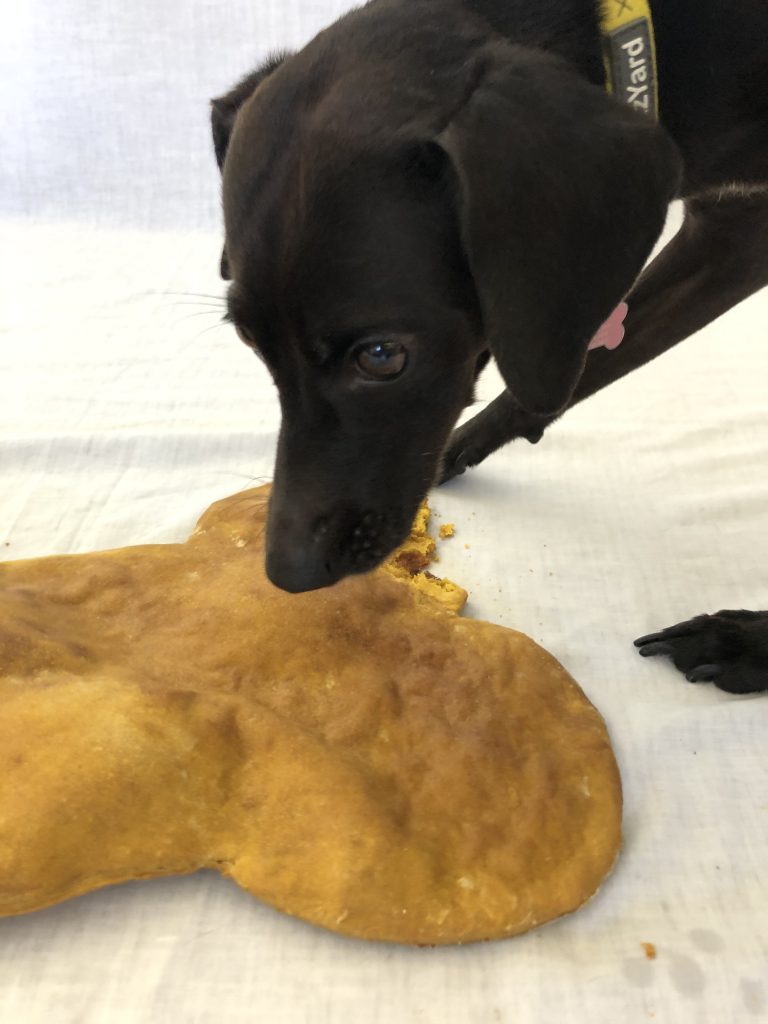 When we first saw this cute video of Murphy and his 2 ft -2lb dog treat we couldn't resist, We just had to let our readers know! We have published dog treat recipes in the past, But this one is REALLY AWESOME!!
How Did Travis Make His Pal Murphy a Treat She Will Never Forget?
Pet Frenzy's Exclusive Interview With Travis DeRose of Curiosityness
Pet Frenzy was delighted to get a chance to ask a few questions our readers may want to know. Travis shares so many fascinating things on his website from videos on cooking, building stuff along with his own Podcasts. You can connect with Curiosityness in a few ways:
Questions We Asked Travis DeRose
Q) Murphy and you have been filming YouTube videos for how long?
A) Murphy has been included in my YouTube videos since the first week I got her. How could I not include that sweet puppy in my videos?
Q) What inspired you to make a massive dog treat like that?
A) It was a week away from my dog Murphy's fourth birthday when we sat down to watch the movie, Uncle Buck. Remember that scene when John Candy makes those absolutely massive pancakes for Macaulay Culkin's birthday? It's awesome! and after seeing that, I decided I had to make Murphy a massive dog treat for her birthday!
Q) What was the filming process like? Any tips for new YouTubers
A) My advice is always just to start filming. Don't get hung up on equipment and the background and everything, just start! I film everything in my small studio apartment with my iPhone. The only thing I recommend is getting a decent microphone when you can. This one works well for me: https://amzn.to/3iQ5xpI
Q) Do you have any upcoming pet videos in the future?
A) I'm in the planning and design phase of making a sidecar for my bicycle for Murphy to join me on bike rides!
Q) Did your dog ever finish his cookie? And if so how long did it take?
A) No way! That thing was massive. We kept it around for about a week and she finished about half of it.
Q) Do you plan on making Murphy one every birthday?
A) No, I gotta keep Murph on her feet with bigger and better birthday surprises!
Q) Do you have any advice to our readers on making their own giant dog treat?
A) Do it! It's super fun and really wasn't very hard even though it may look intimidating. Oh and make sure to have other canine party guests over to share the treat with!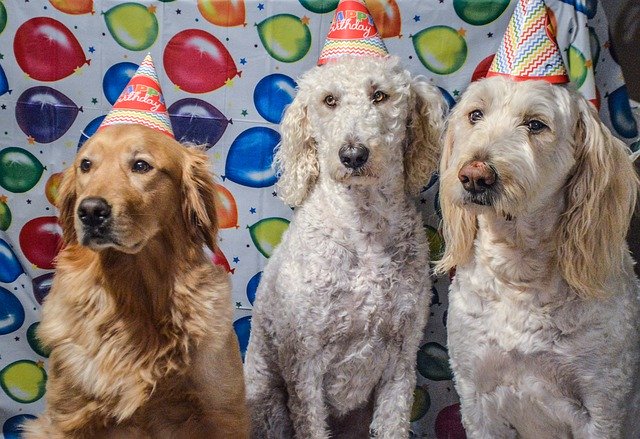 Our Final Thoughts On Murphy's 2 Foot Long Peanut Free Dog Treat
That is a great idea for planning your next canine party! Furthermore, by not using peanut butter in this recipe you can be sure there will be no allergies or chances of xylitol poisoning. We are also looking forward to seeing Murphy's sidecar. Murphy is one lucky dog living the dream!!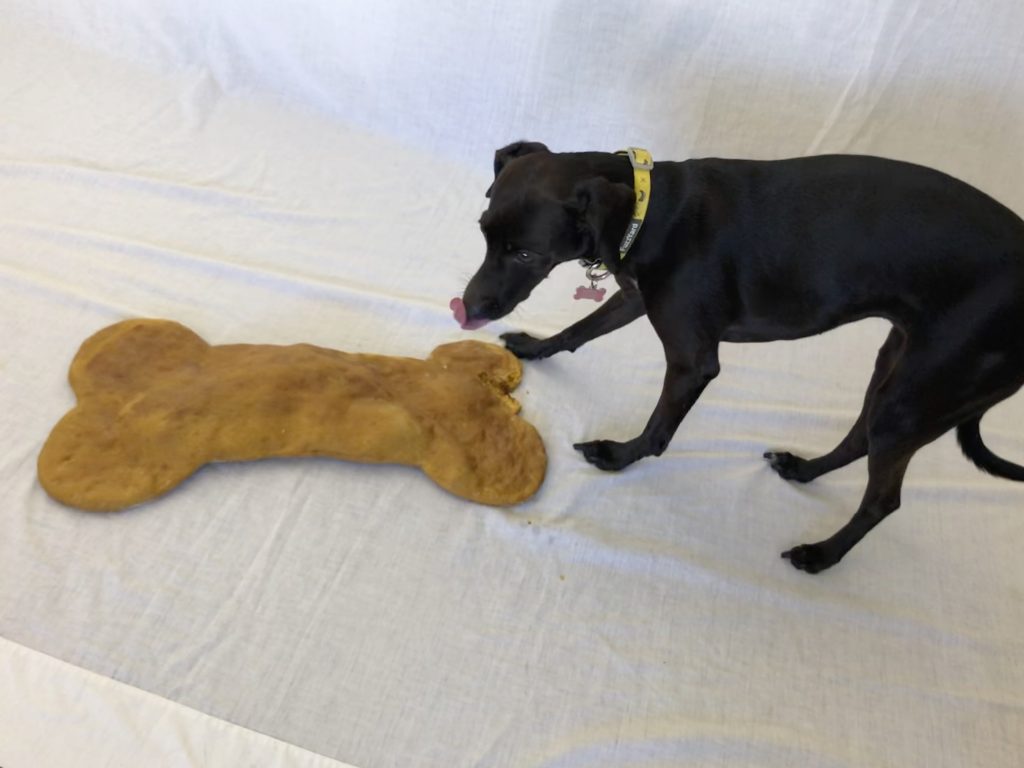 Be sure to watch some of Travis's podcasts and videos. He has been mentioned in Apple Podcasts, HuffPost, CNN, and more. Again, we couldn't have had more fun doing such a cute post on Murphy's very large Dog Treat! And working with Travis was delightful.
If your pups have sensitive tummies, you can look locally like we did when we found Khul Pup Treats.
You can also check out these really cool subscription boxes. However, if you do purchase anything through these links below we may receive a commission.