Pet Food Banks And Rescue Resources In Canada can help. If you're not using the service you can always help a pet in need. But if you find yourself struggling and your local food bank cannot assist in providing your pet with food. Try these places. They may not be listed but if you know of one I can add it to this post.
There are also Rescue Resources across Canada that will support your rescue organization. I have compiled a list that can help you either find a local food bank for your pet or if your rescue organization is in need of help or low on supplies.
Pet Food Banks In Canada 2021
Don't Forget To Donate
Donating any unused items for pets is always needed. Please help keep these resources going by donating when you can. We also use 75% of our earnings from some affiliate programs and apparel we sell in our shop.
Alberta
AARCS Alberta Animal Rescue Crew Society
Alberta Lost Pets also runs a food bank according to Global News. Here is a list of all the ones I was able to find on Facebook. You will need to contact the groups for further information.
ALPL Pet Food Bank, Cold Lake division
ALPL Pet Food Bank, Edmonton, and Area division;
[email protected]
ALPL Pet Food Bank Sherwood Park helping with Edmonton
ALPL Pet Food Bank, Crossfield to Didsbury, Airdrie and Area division;
Alberta Helping Animals Society In the Edmonton Area
ALPL Pet Food Bank, Strathmore/Three Hills/Drumheller, and area division
ALPL Pet Food Bank, Sundre, and area division
ALPL Pet Food Bank Calgary and Area;
ALPL Pet Food Bank Claresholm division;
British Columbia
Prince George PG Pet Food Bank
Richmond RAPS Pet Food Bank Facebook Page for RAPS
Animal Food Bank – Kelowna BC – Helps those that are homeless or low-income. (Currently, they are unable to help due to food donation shortages and food insecurities. )
Lend a Paw, Pet Food Foundation -Founded in 2023, Lend A Paw Pet Food Foundation aims to help support companion animals in the Okanagan whose owners are experiencing pet food insecurity. We hope to provide a low barrier "paw up" and allow animals to stay with their owners and not end up in rescues or shelters. Pets are extremely important to well-being and mental health and we hope to take some of the pressure off those having a hard time
We service Lake Country, Kelowna, West Kelowna, Peachland, Summerland, Penticton, Oliver, Osoyoos, Keremeous and area
Manitoba
Winnipeg Humane Society has an emergency food bank for your pets
New Brunswick
Fredericton NB Kibble Food Bank Oromocto and Area SPCA
Newfoundland and Labrador
Nova Scotia
Annapolis Valley Redemption Alley Pet Food Bank
Dartmouth NS Bide Awhile Pet Pantry Food Bank
Ontario
Bradford Ontario Lost and Found Pets. It also runs a pet food bank.
Pet Food Bank covering Barrie, Innisfil, as well as Bradford
Durham Region As well as Rescue Chow This is also for Whitby, Oshawa areas as well.
Headwaters Pet Food Bank serving Orangeville, Erin, Caledon, Shelburne & Grand Valley. Also, they are a mobile pet food bank that provides free pet food and supplies to those in need. You will find them throughout the area on a weekly basis.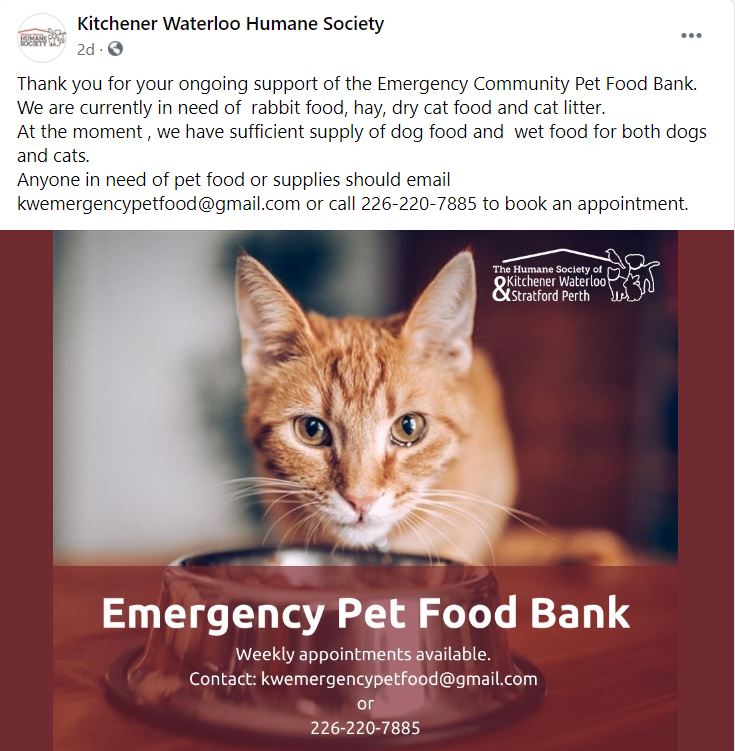 Miss Dixie's Food and Supply Bank For Rescues For Rescue Organizations
Oshawa Zion Hope Food Bank Thursdays 11-12 pm
Peterborough Ontario Pet Food Bank
Prince Edward Island
Prince Edward County Pet Food Bank – Currently offline an unavailable
You can try the PEI Humane Society– they may be able to refer you to local resources.
Quebec
Montreal SPCA can help with information on where to find food banks.
Zarabella Foundation– Assisting the homeless, individuals, and families in need of food, resources, and care for their animals.
Saskatchewan
Pet Food Banks And Rescue Resources In Canada For Non-Profit-Organizations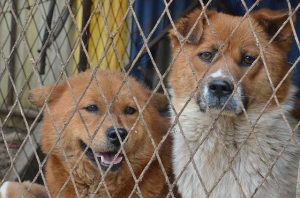 Miss Dixie's food and supply bank for rescues can help in Ontario. In Calgary and Edmonton pauseit4ward Pet Food Bank as well as the VCA can help rescues and sometimes families in need of Canada. VCA focuses on Helping local Humane Societies and rescue groups.
PetSmart Charities is well known and worth looking into if you have a rescue organization. Pet Valu Pet Food Bank can help as well as help with the adoption of your rescues. Rens Pets can also help your organization in many ways.
BCSPCA Community Also has an Animal Spay/Neuter Grant available to assist the Feral Cat Rescue Groups.
Feral Cat Organizations & TNR Programs For 2021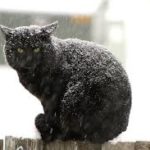 In the KW area, there is an organization called the Kitchener Stray Cat Rescue before contacting any Stray Cat Rescue please read our article on Feral Cats. She can offer some great information and resources. However, the video is the harsh reality many rescue organizations and street cats endure. And what you can do as a community to help them.
All these organizations are always in need of volunteers and support. It helps our communities solve the issues surrounding the feral cat populations in our cities. Although, we need their help as a community. They need your help and support to keep these programs up and running. Furthermore, you can simply just educate yourself to do your part in helping these street cats.
Feral Cat Rescues And TNR Programs
Alberta
AARCS Alberta Animal Rescue Crew Society Barn Buddies
Calgary Meow Foundation TNR by Meow
Little Cats Lost TNR Society
British Columbia
Greater Vancouver BC Animal Advocates
Prince George Animal Advocates Society
Cowichan Valley on Vancouver Island Cat Rescue
Manitoba
Winnipeg Craig Street Cats Craig Street Cats
New Brunswick
Newfoundland
Nova Scotia
Cape Breton Regional Municipality Feral And Abandoned Cat Society
Digby County Society for the Friends of Ferals
Ontario
Guelph New Hope Animal Rescue Feral Cat Program
Kitchener Stray Cat Rescue also works with the Waterloo area
Toronto Cat Rescue Food Assistance for Colony caretakers
Prince Edward Island
Quebec
Saskatchewan
Province Wide Sask Alley Cats Association
Call To Action-Sharing Is Caring
If you enjoyed the article on Pet Food Banks and Rescue Resources in Canada. Check our other posts on Feral Cats, Pets and Domestic Violence and where to find help. What to do when your pet goes missing gives you resources Canada wide to reach out to. Furthermore, remember Sharing is Caring! If you cannot donate. You can also like our page on Facebook and find more great posts and things to make you smile.
Products I can recommend
Add Your Website or Let Us Know Of Any Other Food Banks For Pets In Your Area
Although not all of the organizations are listed. They were the ones I could find still active online. If you may know of any others please send us a suggestion to add.