PetFrenzy is Proud to announce we are now in the Top 100 Pet Blogs on Feedspot!
About The Creators
I tend to mention Jasmine our rescue dog quite a bit in these blogs. She is a 145 lbs currently. Her breed is Perro de Presa Canario. One of the sweetest dogs you will meet. Jasmine was rescued from our local Humane Society. I tend to think she rescued us though. It had been over 2 years since our last of two senior dogs passed away. We knew it was time to help another dog out there. So we rescued Jasmine.
Our Previous Dogs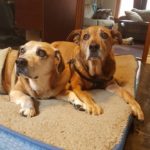 One was a Beagle X rescue from a local Humane Society and the other, a Rotten Pitbull : ( Red Nose Pitbull X with a Rottweiler) I had since she was a puppy.
After their passing only months apart. I soon came to the realization and acceptance. They had lived long and happy lives. I even worked from home to be there for them full time when they reached their final few years. I had pill schedules, vet appointments. It was endless. I don't regret one moment of that time.
My Rogue had hip dysplasia and needed assistance getting up and downstairs, and just getting up in general.
Benson had to wear a wrap since he developed a bit of a dribble. So I had to clean him and change him and take it off when he needed out We had to make sure he was bathed once a day on his tummy. It was endless senior care.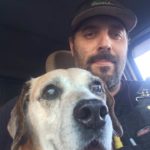 When we lost our dogs we took a long time to grieve. I never thought I would be able to go through such pain from loss again. But I also realized there are so many dogs in need. Each time we have gotten one, we have been blessed by a new experience each time. This time we want to make a difference.
Adopting Our New Dog Jasmine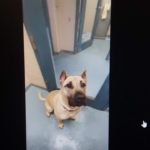 This picture was taken for the ad the Humane Society posted on Facebook. We decided to go meet her and her brother Bagel. Bagel was unavailable, so we met with Jasmine. As soon as we met her, we just knew this was this dog was for us. They approved us very fast. And I tell you, we were like two parents coming home with a new baby.
It was scary, new and a huge responsibility. She was only 10 months (approximately) when we adopted her. We did not know her background at all. We didn't know she had fear aggression. It wasn't until we got her home and started introducing her to people. Heck, we didn't even know the breed she was.
Her first day with us was quite an adventure. She was OK when it was just my husband and me but when we brought someone new in she immediately started barking at them aggressively. That is when we knew we had to call a trainer. It was the best decision we ever made after adopting her. Here is one of our first videos with our trainer: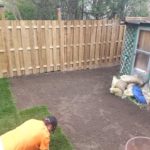 We also realized we had a 4 ft chain link fence in our backyard, that simply just wasn't going to work. My husband got all the fencing from our local Lowes and we started building the fence. After the fence was up, we had a big mud bath back there. We had to put in sod. You can't imagine a muddy 100 lb puppy running through the house. She had absolutely no training. She didn't even know her name or how to sit. Our work was cut out for us. Here is a picture of Mark my husband putting in the yard.
The Reason Pet Frenzy Community Was Started
After caring for two old senior dogs for many years. Then rescuing another puppy, I decided to share my experience and products I have used and can recommend. I wanted a community page where we can share experiences and stories of our pets.
A one-stop how-to page. I mean we have had many different types of dogs throughout the years. Each time we learned something new. I want to share that to provide support to those considering getting a dog (or cat). I have three grown children who are animal lovers as well. They are my main contributors to my cat section. It will help you learn hands-on techniques and products that work.
I do hope you enjoy our site. We hope to keep it growing and help raise awareness of animal rights. As well as help support our community. If your interested in contributing to raise money for any rescues, we would love to help in any way we can. Just send us a message! And let's see what we can do!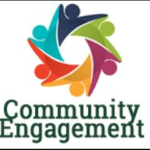 You can also join our newsletter and watch our community grow. There will be new information and topics all the time. So be sure to send us a message if you have a topic in mind. And we will do the research! Our newsletter goes out on a monthly basis. So you won't be getting any regular spam from us on new posts. Just the important stuff and only once a month. You can unsubscribe at any time. I will not be sharing any of your emails or information unless requested by you. This is a secure site as well.
So help me get this community started!