Gift Ideas For Cats Under $40
Cat Toys
Gift Ideas for Cats and Cat Lovers can be challenging. Buying cat toys for your pet or someone else make sure the toy is safe for a cat. We all know that the box is the ultimate present for a cat. Cats are more likely to enjoy sitting in the box the toy came from. Here are some suggestions for you if you're not sure.
Interactive Toys
Petstages Tower of Tracks Cat Toy is a great pick. It can offer hours of fun and interaction with your cat. Or simply because your cat keeps you up all night.
3 BALLS SPIN & ROLL – This addictive cat toy is designed with 3 levels of tracks and 3 brightly colored balls
SPINNING BALLS KEEP CATS BUSY – The Tower of Tracks cat track toy stimulates your cat's senses and hunting instincts
STACKED & STURDY CONSTRUCTION – This track cat toy is durably built with a closed top and is perfect for one or more cats
BAT & CHASE BALLS – NON-STOP PLAY – A non-slip base.
MENTAL & PHYSICAL FUN – This cat track toy is a great way to help your cat get much needed daily exercise and excitement
Tunnels
Pawaboo Cat Tunnel Tube. It can offer hours of fun when you have more than one cat.
Peephole and hanging ball bell toys in the middle make sound to arouse curiosity, keeping your cat entertained for long hours.
Your pet can play peekaboo, bouncing and chasing that maintain joy, privacy and exercise activities.
Strong spring-steel frame and tear-resistant 190T polyester taffeta, no worries about scratching and deformation.
These tubes pop out in seconds, folded easily with a provided elastic band for easy storage and travel.
Hammock
AmazonBasics Cat Condo Tree Tower With Hammock Bed And Scratching Post. For the more lazier feline friend.
Elevated cat hammock with dual scratching post pillars
The plush hammock provides a comfortable space for your cat to relax
Help keep your cat from damaging carpets, furniture, curtains, and more
Natural jute fiber scratching posts help keep nails healthy
Neutral color tones fit in with your home's existing décor
Durable, long-lasting construction
Interactive Treat Dispenser
Fill with your cat's favorite treats, design with 2 air holes, As your cat plays and the rolls the ball, treats will fall out to reward them for being active, it's lightweight and can carry it anywhere
The cat interactive toy, Made of high-quality ABS and PC material, stable.
Durable, non-toxic, BPA free, the cat and other animals will not break it
Use soft foamy water to wash every part of the interactive food dispensing toy. Easy to clean.
This pet toy suitable for cat, rabbit, ferret, and other small animals
Fill with your cat's favorite treats, design with 2 air holes, As your cat plays and the rolls the ball, treats will fall out to reward them for being active, it's lightweight and can carry it anywhere
The Cat Lovers Gift Ideas – Gifts Under $40
Books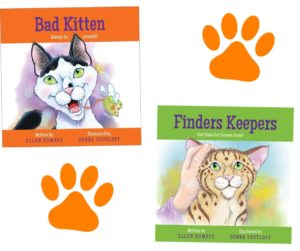 We all know at least one crazy cat person in our lives. It may even be you! Choosing the perfect gift can be hard. For Children, I would highly recommend books and interactive learning to better prepare them for responsible pet ownership.
You may want to look at Purple Cat Press. Pet Frenzy did a review on Purple Cat Press with our story, Teaching Children About Responsible Pet Ownership.
Mugs and Glasses
Everyone needs a coffee or tea mug. You can find these anywhere in local stores. They are also available on Amazon. This one is my favorite.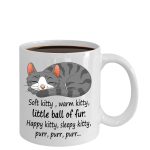 High quality ceramic mug
Dishwasher safe
Microwave safe
White gloss 11,15 oz
Decorated with full wrap dye sublimation
For Wine Lovers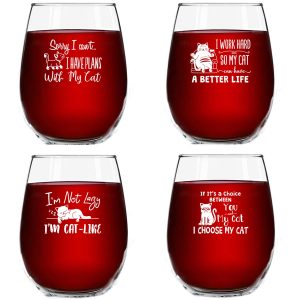 FUNNY CAT GIFT IDEAS FOR CAT LOVERS: These funny wine glasses are a great gift for anyone who loves their feline friend! Perfect for any occasion, they are as much fun to give as they are to receive!
INDIVIDUAL GIFTS FOR FOUR: An affordable way to gift individual wine glasses or offer party favors. Simply divide the pack of 4 into individual presents and you have memorable gifts for less than $7 each that will last for years to come!
WINE GLASS SET EVERYONE WILL LOVE: Raise a glass to celebrate with this 15 oz red or white wine drinking glasses. Our glass set makes a great cat lover Christmas gift for a best friend or housewarming gift for a host/hostess.
GREAT QUALITY PRINT. They are dishwasher safe. Bold white print shows up well and won't fade after being washed in the dishwasher.
Collector Wine Bottle Holder Rack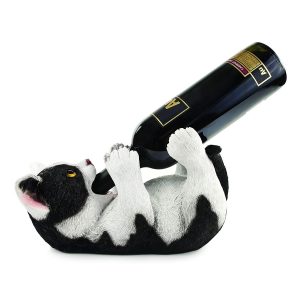 I personally love this one. Who doesn't like those unique gifts?
Holds one 750 ml bottle of wine
Protective felt base keeps it in place and protects countertop
Great center or party décor piece for discussion
Wipe with damp cloth to clean when needed
Apparel
Amazon has great apparel for cat lovers. From sweaters to pajamas and socks. You can get some ideas with these links below. Apparel for both the cat lover and the cat.
Other Gift Ideas
You can also purchase pet gift cards as well. Donations to Animal Rescues in their name. Gift Baskets or scarf's with kitties on them. You can add a movie into the gift basket. Make the basket so it is for them and the cat. We also have a great article on Gift Ideas for Dogs and Dog Lovers.
Training kits and treats are always good.
Personalize Your Gift
This is another great present for the cat lover. Whether it be for a pet that has left us or one that we have now. These are worth checking into. You can check out our article on Famous Movie Cats and get some ideas for movies for pet lovers. Or if you have a dog lover in your life. Read our article on Gift Ideas for Dogs and Dog Lovers.