Gift Ideas Under $40
Toys For Dogs
Gift Ideas for Dogs and Dog-Lovers can be challenging. When shopping for dog toys there are some things to keep in mind. You want to make sure the toy is safe. If the dog is a power chewer you will need to find durable toys. If the dog shreds everything you may want to think twice about teddy bears.
Puzzle Toys
Puzzle Toys are a great option for dogs. They will keep busy and can help with stimulation to conquer doggy boredom.
Large vinyl treat-dispensing toy entertains your dog for hours
Soft, pliable textured vinyl surface made for easy gripping
Insert treats, which fall out during playtime
Easy to fill
5″ Diameter
This one is my favorite puzzle toy. Our dog loves this ball. It is also reasonably priced under $10.00 on Amazon. It is worth it. When we have large family dinners I put treats in her ball to prevent her from begging. It can also keep them busy if they tend to get into things.
Trixie Pet Products Windmill, Level 1,
Great toys for those dogs that need a job to do. This will provide stimulation to also conquer doggy boredom. Our dog loves this product.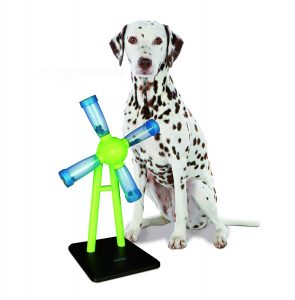 Set includes a base with a windmill and 4 beakers with 2 sets of patterned lids
Place treats in a container
Leave lids off until after the dog has mastered turning the windmill to release treats
Place lids with patterned holes on beakers
Step 4: mix and match lids for an added challenge
Beakers are dishwasher safe. Dimensions: 11 x 9 x 17-Inch
Beds and Stuffed Toys
Every dog loves a comfortable bed.
Other Toys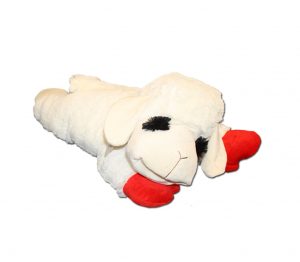 Rescue dogs sometimes like to cuddle up to stuffed animals. One of our favorites is the lambchop stuffy! Our Dog's favorite toy.
24-Inch XXL Toy
Designed for bigger dogs
Officially Licensed Product
Perfect for dogs with separation anxiety
Super soft
Tug Toys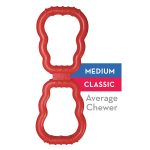 KONG Tug – Durable Stretchy Rubber, Tug of War Dog Toy – For Medium Dogs. Our dog is a very large one and loves this toy. It lasted a long time.
Use as a fetch stick that's both safe and reliable
Helps clean teeth and soothe gums
Globally Sourced Materials.
Great for puppies going through chewing stages.
Gifts For Dog Lovers Under $40
Clothing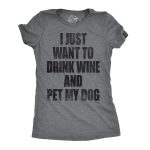 They have some great deals on Amazon. Hoodies and T-Shirts. Novelty things like hats ore scarfs. Proud dog parent things. You can click on the T-Shirt to find other items at reasonable prices with fast shipping.
The Wine Lovers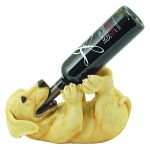 Collector Wine Bottle Holder Rack
Holds one 750 ml bottle of wine
Protective felt base keeps it in place and protects countertop
Great center or party décor piece for discussion
Wipe with damp cloth to clean when needed
Novelty Wine Glass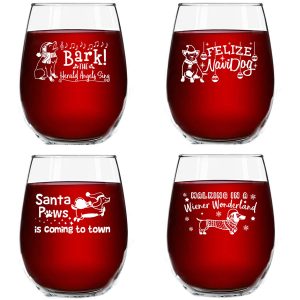 Funny Glasses -These dog-themed wine glasses offer a classic glass design but with adorable pictures and saying that will leave you smiling with joy.
An affordable way to gift individual wine glasses or offer party favors. Simply divide the pack of 4 into individual presents and you have memorable gifts for less than $7 each that will last for years to come!
Raise a glass to celebrate with this 15 oz red or white wine drinking glasses. Our glass set makes a great dog lover Christmas gift for a best friend or housewarming gift for a host/hostess.
This novelty wine glass set is quality made. Bold white print shows up well and won't fade after being washed in the dishwasher.
Jewelry
Paw Print Necklace Love Heart Necklace Love is A Four Legged Word Gifts for Dog Lovers.
Earth Rated Eco-Friendly Dog Poop Bags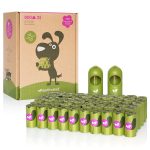 Bag poop better: Our 9"x13" bags have a 100 percent leak-proof guaranteed to keep your hands safe
What's in the box: 900 awesome dog poo bags on 60 refill rolls of 15 bags, with two leash dispensers
Poop doesn't smell like roses: Our odor-blocking lavender-scent locks in that stank for good
Super simple: Easy to open so you can enjoy a stress-free walk with your dog no matter the weather
Earth Rated: We use recycled materials in our packaging and roll cores because details matter
Over $40 and Collectables
Another Great Gift I found for the Dog Lover was Petsie's. How it works is you take a picture of your dog and upload to the website and make your purchase. It is a simple process and you can use your phone or computer to upload the picture.
FitBark Collar
For all those dog lovers that want to keep their dog healthy. So what is FitBark? It's a small, colorful device that you attach to your dog's collar. It monitors activity levels, quality of sleep, distance traveled, calories burned, and overall health and behavior 24/7.

Don't forget to check our article about Gift Ideas for Cats and Cat lovers.